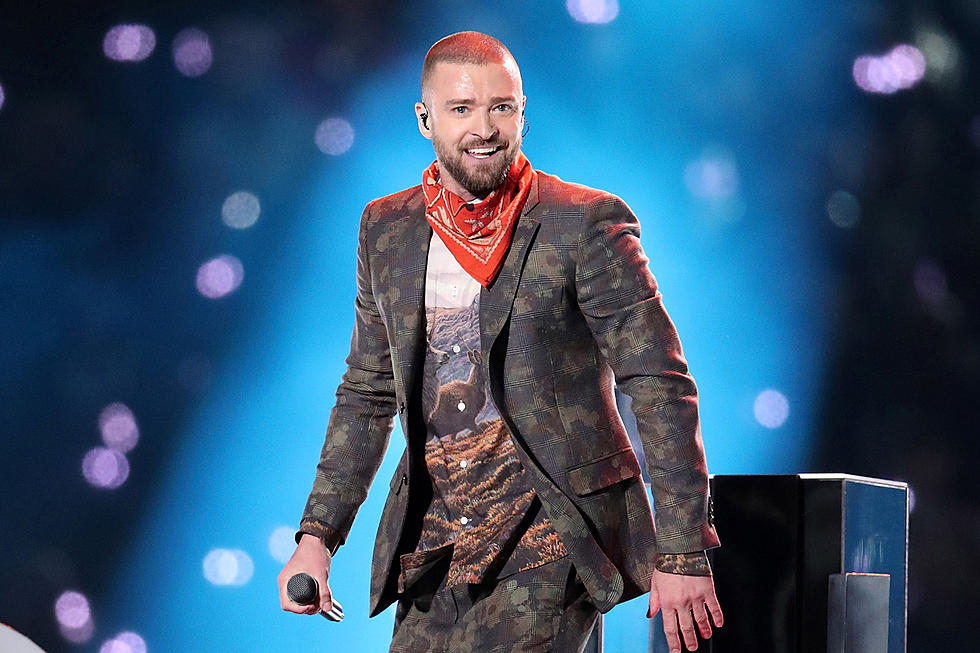 Justin Timberlake's Super Bowl Halftime Show: No *NSYNC, No Janet, Just Justin's Biggest Hits
Christopher Polk/Getty Images
Super Bowl LII Halftime Show performer Justin Timberlake left the past in the past during his headlining set at the U.S. Bank Stadium in Minneapolis Sunday night (February 4).
Looking a bit mismatched in camo pants, an orange bandana around his neck and a button down shirt featuring a country western print (to be fair, JT's never really been recognized for his fabulous Super Bowl style), the pop star kicked off his set with "Filthy," the lead single off his new album, Man of the Woods—a somewhat odd choice considering the track's lukewarm reception.
After dancing amid a laser light show in a club-like setting located inside the stadium building, Timberlake sauntered out onto the field to his 2002 smash hit, "Rock Your Body," pointedly stopping his vocals before the infamous "Better have you naked by the end of this song" line. (A nod to his controversial Halftime Show performance with Janet Jackson, perhaps?)
The artist followed up with a medley of other 2000s hits—"Cry Me a River," "SexyBack" and "My Love"—followed by a rock-style deconstruction of the track and a particularly energized dance break out on the turf. Backed by a band, he also performed his smooth The 20/20 Experience single "Suit & Tie," dancing with his microphone stand as he crooned, before taking to a piano to perform "Until the End of Time."
While at his piano, Timberlake paid tribute to Prince as a large projection of the late Purple Rain singer—not a controversial hologram of the icon, as was reported—materialized on a large curtain behind him. Outside the stadium, as the city of Minneapolis lit up in purple hues, the singer belted out "I Would Die 4 U."
At this point in the set, it was clear Timberlake's former *NSYNC bandmates would not be joining the singer-dancer onstage for any sort of fan-predicted reunion.
Timberlake closed the Halftime Show with "Mirrors," as well as his joyful Grammy-winning Trolls soundtrack hit, "Can't Stop the Feeling," joining the audience for a celebratory reverie and to take, as he put it, "Super Bowl selfies" with the crowd.
The artist last performed at the Super Bowl Halftime Show alongside Jackson in 2004.
Justin Timberlake's full Halftime Show set list:
"Filthy"
"Rock Your Body"
"SexyBack"
"My Love"
"Cry Me a River"
"Suit & Tie"
"Until the End of Time"
"I Would Die 4 U" (Prince tribute)
"Mirrors"
"Can't Stop This Feeling"
18 Spectacular Images From Justin Timberlake's Super Bowl Halftime Show Performance