Show Us an Awful Mess to Win Carpet Cleaning! – Presented by Young's ServiceMaster Cleaning Service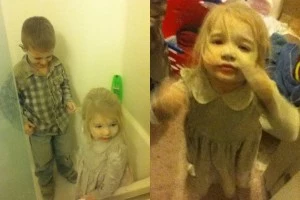 Kids can make awful messes! The photo above is what my two looked like after throwing powder cement in the air as pixie dust. You should have seen the garage. Send us a photo of a huge mess your kids or animals made and we'll put you in a drawing to win carpet cleaning from Young's ServiceMaster! They'll clean up to 1,000 square feet for you! Submit your photo between now and 11:59 p.m. on Oct. 28 on Nov. 11.

Oops! We could not locate your form.
Young's ServiceMaster Cleaning does restoration work. If your home suffers from a child-made, or animal-made disaster — or from a wind storm, snow storm, flood — or whatever, call Young's ServiceMaster to fix it.
This is my favorite commercial right now:
Subscribe to 98.3 KEYW on