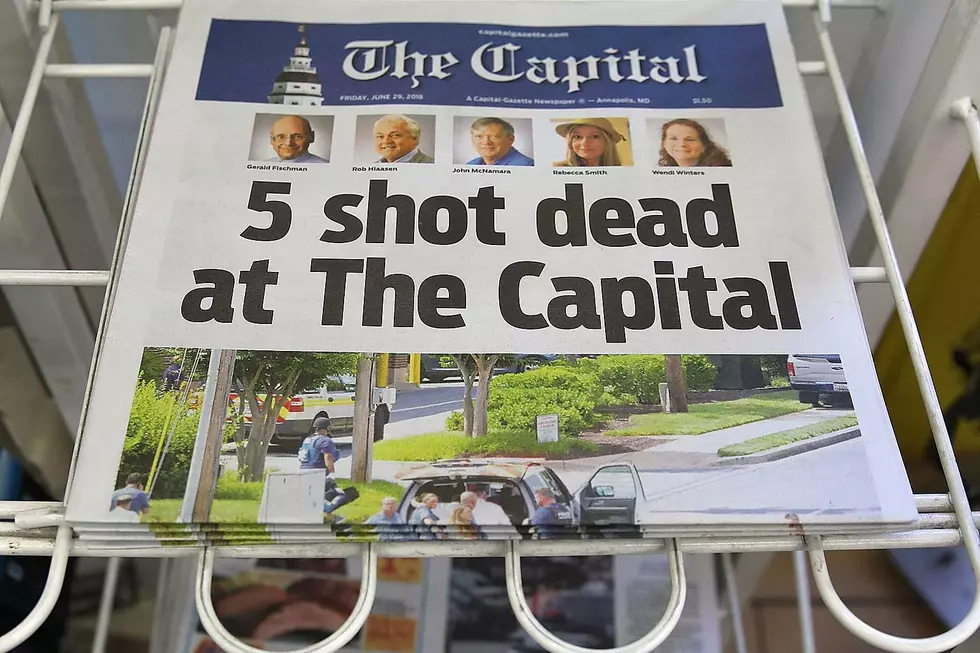 5 Dead in Shooting at Maryland Newspaper; Victims Names Released
Getty Images
Here is what we know now:
The names of the victims have been released: Robert Hiaasen, 59; Gerald Fischman, 61; John McNamara, 56; Rebecca Smith, 34; Wendi Winters, 65.
The shooter has been has been identified as Jarrod W. Ramos. He had sued Capital Gazette for defamation in the past. He has been charged with five accounts of first-degree murder.
The newspaper tweeted: "Yes, we're putting out a damn paper tomorrow." They did.
CNN is reporting that the attack was "targeted."
Police (via CNN): "... the suspect looked for his victims inside the building that houses the Capital Gazette in Maryland."
The gunman is in custody and is "not being cooperative." CNN is reporting that he was "found under a desk." Flammable liquid was found nearby.The shooter reportedly shot through a glass door at the office.
Officers arrived within 60 seconds. Multiple videos posted by bystanders on social media show huge numbers of emergency vehicles rushing to the scene.
By the time the shooting had stopped, some employees were still hiding under their desks.
The AP reports: "The newspaper is part of Capital Gazette Communications, which also publishes the Maryland Gazette and CapitalGazette.com. It is part of the Baltimore Sun Media Group."
President Trump has been briefed on the situation. He tweeted: "Prior to departing Wisconsin, I was briefed on the shooting at Capital Gazette in Annapolis, Maryland. My thoughts and prayers are with the victims and their families. Thank you to all of the First Responders who are currently on the scene."
The Capital Gazette is covering the shooting from the scene.
The NYPD is deploying officers to stand guard outside major media outlets.