 Best Poems for Mother's Day Gifts!
Flickr, Liz West
Mother's Day 2013 is May 12. Are you ready? Making a Mother's Day gift can be easy and we suggest expressing your love and gratitude with a poem.  Whether it's with a card, letter, picture, painting, jewelry or house ware, something you make yourself (or buy online) with a poem added will guarantee a home run. Click on the title of the poems below to purchase something with the poem already on it:
Mother
You filled my days with rainbow lights,
Fairy tales and sweet dream nights,
A kiss to wipe away my tears,
Gingerbread to ease my fears.
You gave the gift of life to me,
And then in love, you set me free.
I thank you for your tender care,
For deep warm hugs and being there.
I hope that when you think of me
A part of you
You'll always see.
Mom
You may not have gone to law school,
But you laid down the law in our house,
From the oldest to the youngest,
All the way to your loving spouse.
You may not have gone to med school,
But you knew every treatment in the book,
For aching stomachs, cuts and bruises,
You treated them all; whatever it took.
You may not have been trained as a teacher,
But you taught us more than any school could,
Applying book knowledge to the reality of life,
In ways that we loved and understood.
You may not have won first prize for anything,
But you have won it in your family's heart,
I wouldn't trade you for another mom,
Nothing will ever separate or keep us apart.
-Hillary Ascalon
MOM
For all the times that I forgot to "thank you,"
For all the special, little things you do,
For all the words that sometimes go unspoken,
I need to say "I love you, Mom... I do."
I love you for the way you stop and listen,
And for your support throughout the years,
For teaching me the meaning of compassion,
And sharing in my triumphs and my tears.
And if, at times, I may have seemed ungrateful,
I want to say "I truly hope you see,
That nothing you have done has been forgotten,
And day by day, you mean more to me."
Here is cute little poem on a necklace charm.Click Here to go to the website.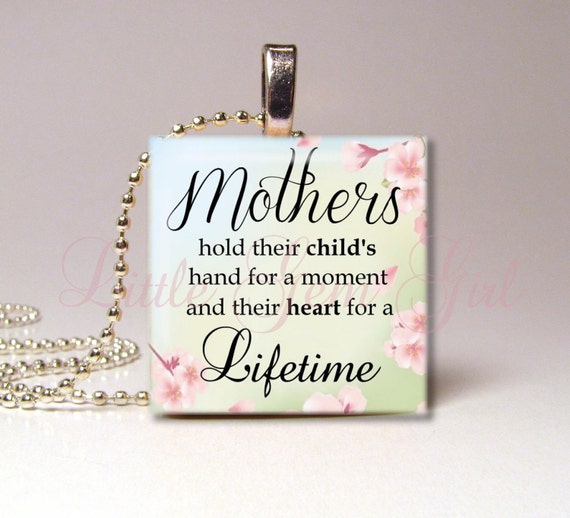 A few words can explain a lot. This is a gift that you can customize. Add your name, or switch the words up. Choose from many poems or add your own. Click Here for the website.

Hand prints
If you would like to get the kids involved in making the gift, here is a great idea.You can grab a shirt, a poster, a blanket, card or letter. All you need is finger paint (make sure its washable) and the hands of the little ones. dip thier hands in paint and stamp it around the poem for a custom gift that will make for a great memory.