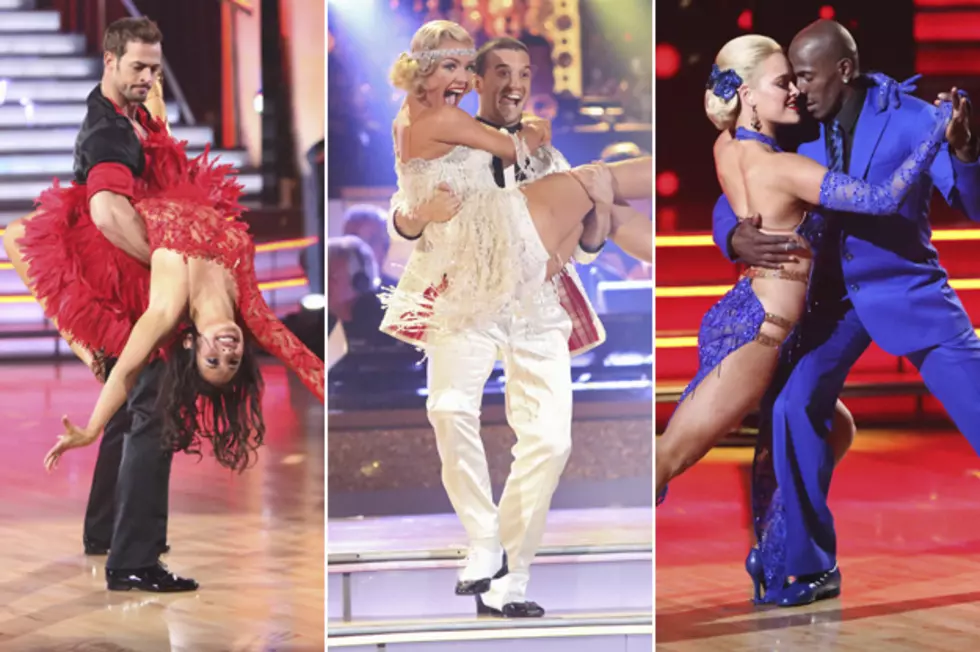 'Dancing with the Stars' Winner — Who Won the Mirrorball Trophy?
All the weeks of struggle and sweat have lead up to this — the crowning of a new winner on 'Dancing with the Stars.' So whose blisters, torn muscles and compromised dignity were rewarded with a shiny mirrorball trophy worth about a buck-fifty?
Let's find out the 2012 'Dancing With the Stars' winner finale as the extravaganza unfolds … LIIIIIIIVE!
Of course, as with all finales, this won't be as simple as just handing out that trophy. Lots of filler (and even more dances) had to come first. We started with the Losers Cavalcade, during which everyone who was voted off earlier in the season came out to take a final bow.
Then Tom Bergeron and Brooke Burke-Charvet, who dressed tastefully and thus cruelly robbed me of the chance to mock her last gown of the year, told us the final three contestants would perform one more dance for the judges — a dance they had just 24 hours to prepare — and that those scores would be added to Monday night's tally to determine the overall winner.
But before we got to that, a bunch of the ousted dancers came out and showed us why they didn't make the finals. And then Kelly Clarkson did a medley of new single 'Dark Side' and her hit 'Stronger,' which I mention for no reason other than I'm a huge fan and Len actually fist-pumped during 'Stronger.' Which was its own kind of awesome.
And then it was time to dahnce, dahlings.
William Levy and Cheryl Burke
Score: 30 out of 30 (10/10/10)
William said the past 10 weeks have flown by, but he's loved every minute of it. His salsa again had him in white pants because what better way to showcase his flawless caboose. Len said "if salsa and rhythm were in the Olympics, you'd get a gold medal," and then he had to yell the rest of his praise over the ballroom crowd as they chanted "William! William! William!" Bruno said Will's "hips don't lie," and Carrie Ann said aside from his dancing ability, he has "true star quality."
Katherine Jenkins and Mark Ballas
Score: 30 out of 30 (10/10/10)
Katherine teared up as she talked about how grateful she'd been for the experience before she and Mark took the floor for their jive. What's left to say about her? She's gorgeous, she's funny, she's exquisitely human — and she's been an amazing dancer since day one. Bruno called her "stunning," Carrie Ann thanked her for "setting the bar so high," and Len called her "the complete package." Before they got their scores, Katherine emotionally thanked America for welcoming her so warmly.
Donald Driver and Peta Murgatoyd
Score: 30 out of 30 (10/10/10)
It was actually Peta who got choked up talking about the pair's journey this season, but of course Donald had his own fond memories. Their cha-cha was smooth and sexy, and call me crazy, but I think Donald is hotter than William is. Carrie Ann raved about his intensity, Len said Donald is the best football player they've ever had on the show (high praise indeed), and Bruno said it was another hit for "Donald the Magnificent."
While the scores were being tallied, Gladys Knight, who of course danced on the show earlier this season, returned to sing 'The Way We Were' as scenes from the top three dancers played on screens behind her. The only thing to say about Gladys is I want her to sing every song forever and ever, amen.
Afterward, it was time to announce who came in third place: William and Cheryl. Wow. We really thought the chick vote would push him over the top, but as great as he was, we're happy with this result (but showing his little kid bursting into tears was harsh, ABC).
And your new 'Dancing with the Stars' champions are … Donald and Peta!
Our prediction several weeks ago put him in third, partly because we feared he wouldn't get the audience vote necessary to win. We didn't know he'd pull out all the stops with the astonishing freestyle he did on Monday — that clearly pulled in a lot of votes for him, and gave him a well-deserved victory.
Katherine took the news with her characteristic grace, and why not? She was a virtual unknown in the US just two months ago, and now she'll surely have a ton of opportunities here if she wants them.
And that does it for season 14, gang. Thanks for coming along for the ride. See you in the fall.