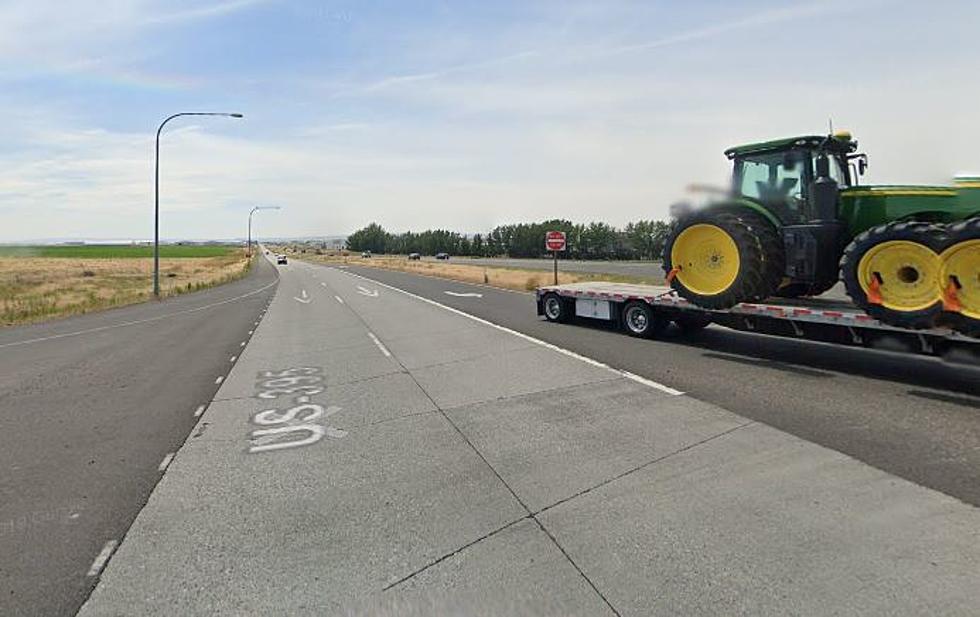 Driver in Highway 395-Foster Wells Road Crash Dies in Spokane
Crash scene, Highway 395 and Foster Wells Road, looking south (google maps)
The Washington State Patrol indicates it could be at least two to four weeks before concrete details are released about a fatal crash north of Pasco.
Last Sunday, a Hyundai Elantra was traveling westbound on Foster Wells Road, apparently being or just having been pursued by a Franklin County Sheriff's Deputy.
A short time later, the car sped into the intersection with Highway 395, and WSP officials say a southbound semi slammed into the passenger's side door.
The impact killed 23-year-old Karlie Moore, she died instantly in the 4:15PM crash. The driver, 28-year-old Ricky G. Cruz of Pasco, was airlifted to Sacred Heart Medical Center, but died Tuesday, say officials. Authorities did not release any specifics about the nature of his injuries.
Neither person was wearing their seatbelt. No further details about why there was apparently a pursuit have been released. No word if the car stopped at the stop sign, or just sped straight through, but the semi-truck destroyed the car. The semi driver, Harold Matuterivera, 40, of Milton Freewater, was not hurt; surprisingly his truck did not sustain tremendous damage.
It appears the smaller car slammed under the mainframe of the truck, hitting the bumper and wheel area. A picture of the vehicle in the Tri-City Herald shows the passenger door badly smashed inward.
The Herald reports what's left of the car is in the WSP Impound area, behind a locked storage fence at their regional headquarters just south of Kennewick.
The investigation continues.
UP NEXT: See how much gasoline cost the year you started driving