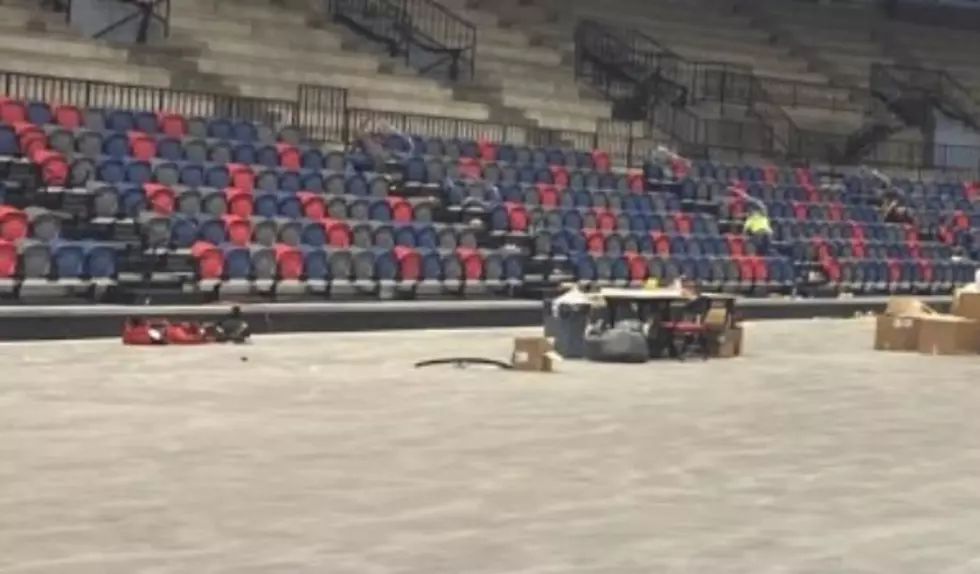 First Glimpse of New Toyota Center Seats (Exclusive)
First glimpse of new seats at Toyota Center (Townsquare media)
A few weeks ago, around June 14th, we reported on the renovations taking place at Toyota Center, namely, the removal of the old orange seats.
  Now, we get a sneak peek at the new ones!
Back on June 14th, removal of the old orange plastic pumpkins began,  for 35 years they accentuated empty seats, regardless of the event being held. Here's a look at the old ones being removed.
It's a well-known fact in the entertainment-promotion-venue industry that if possible you don't want certain colors of seats because they emphasize the ones that are empty--to the eye.  Even with a decent crowd, the orange drew your eyes to empty seats.
Orange is one of the worst unless your collegiate arena uses the school colors. Some schools, like Oregon State and Syracuse, have orange as a primary color. But the rest of their arenas are designed so that using brighter colors doesn't look so bad.
  The Toyota Center did not have that 'feature.'
As we reported over a month ago, it is believed original Americans owner Ron Dixon, and the force behind the old Tri-Cities Coliseum had orange seats installed because they were cheaper (fewer people wanted them).   There are a lot of old-timers who swear by this, and many were there when the building was being put up.
  But now, we get a peek
Thanks to our source on the scene, here's a look at what some of them will look like. The photo read "some portables are in!" 
From the looks of this, the new seat era at Toyota Center is off to a much better start. Easier on the eyes!
CHECK IT OUT: 100 sports records and the stories behind them