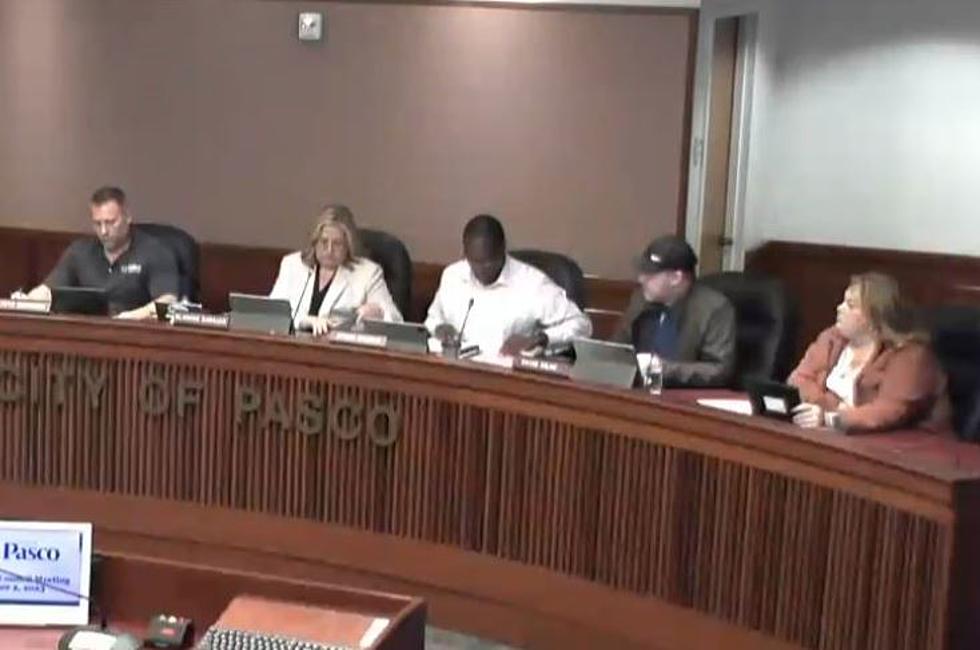 Pasco City Council Fills Vacant Seat, Weighs Pros and Cons
Pasco City Council: Melissa Blasdel (far right)
A day following the departure of former Mayor Pro Tem and Council Member Craig Maloney, the Pasco City Council went to work on finding his replacement tonight (9/2).
The city council held a special meeting to hear from six hopefuls who met the qualifications to serve on the council for district #6: Calixto Hernandez, Jennifer Yaniz, Melissa Blasdel, Ana Ruiz Kennedy, Mark Dade, and Andrew Enriquez.
The six candidates stood before the council individually and answered a series of questions about how they would handle themselves in certain situations and whether they're ready to meet the demands of city council.
Melissa Blasdel was the first of the six interviewees. She impressed the council enough for appointment into the vacant seat. She will serve until her term expires on December 31st, 2025.
Prior to the interview, appointment and swearing-in process, a motion was called by councilman Pete Serrano to suspend efforts to fill the seat tonight.
"I continue to be in opposition to the timing of this. I still think we need to wait until after the elections are heard. We are going to have at a minimum, one, if not potentially four council members, that are new to the seat. So, I ask and make a motion that we suspend this business at this time until at least the Monday after the elections. So, I'm going to make that motion and stand by it." Serrano shared with his fellow council members.
Before a vote on the motion was called, council members agreed to a discussion weighing the pros and cons of waiting until after the election to fill the seat. Some raised concerns with the amount of work Maloney leaves behind with his departure.
"I think Councilman Serrano's idea has merit. It's not unwarranted. I personally don't want an extra workload. And I think that the rest of us wouldn't really appreciate the extra workload either. So, this is a tough one. It's not easy for me. I think I respect the idea and the concept, but I would like to move forward." said Council Member David Milne.
Newly appointed Mayor Pro Tem and Council Member Irving Brown Sr., Council Member Joseph Campos, and Mayor Blanche Barajas also expressed concerns with taking on Maloney's workload while Council Member Zahra Roach felt the candidates deserved to be heard.
"Six legitimate candidates who are passionate enough to apply and put themselves through this process to get this far and then rob them of having the chance to be appointed and have a representative from District Six is something I'm not in favor of," Roach said. "And procedurally, I think it's not a good idea for us to just be six and have a potential for deadlock on votes. So, I'm in favor of moving forward with the appointment tonight."
The council voted 5-1 against the motion. The interviews ensued.
10 Long-Gone Eateries Tri-Cities Washington We Wished Were Still Here
Remember these beloved restaurants at the Columbia Center Mall in Kennewick? We DO!
Gallery Credit: Rik Mikals