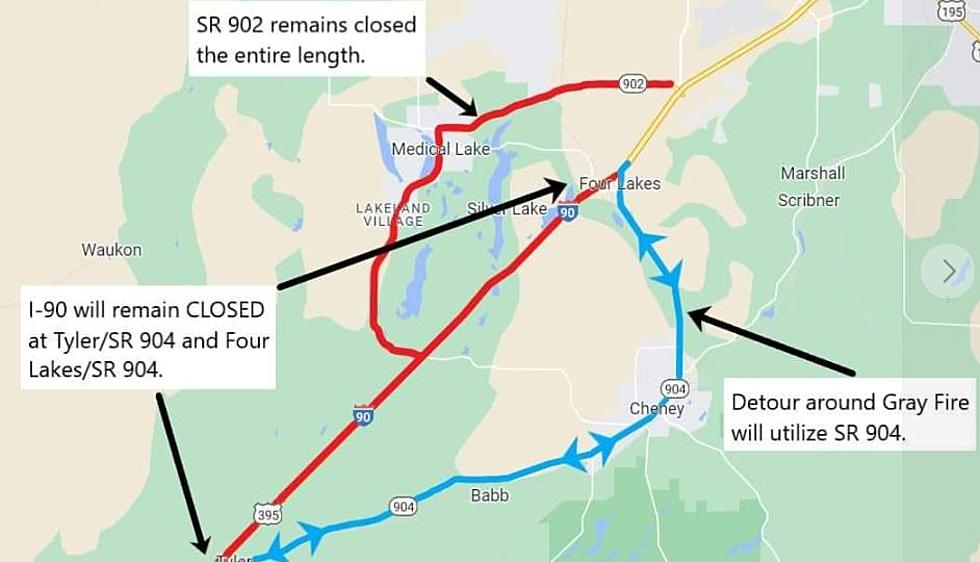 I-90 Still Closed South of Spokane Due to Wildfires-Detour Open
I-90 detour (Lincoln County Sheriff's office)
According to multiple sources, including the WA State Department of Transportation and Spokane media, Interstate 90 is still closed just south of Tyler, not far from Cheney. This map of the detour is from the Lincoln County Sheriff's Office.
 State Route 904 is now being used as a detour
As of four hours ago, around 7 AM Monday, August 21st, Interstate 90 is still closed. According to sources, east (northbound) drivers heading to Spokane will take the Tyler, WA exit and use SR 904 as a detour into Spokane
Eastbound drivers will exit at the Four Lakes turnoff and detour through Cheney. WSDOT and fire crews report a number of trees have fallen on the Interstate, and the fires that threatened Medical Lake jumped the highway and are still being dealt with.
As of the most recent reports, crews are still dealing with some active fires on both sides of the Interstate, no word yet as to when it will re-open.
KEEP READING: Scroll to see what the big headlines were the year you were born
Here's a
look at the headlines
that captured the moment, spread the word, and helped shape public opinion over the last 100 years.