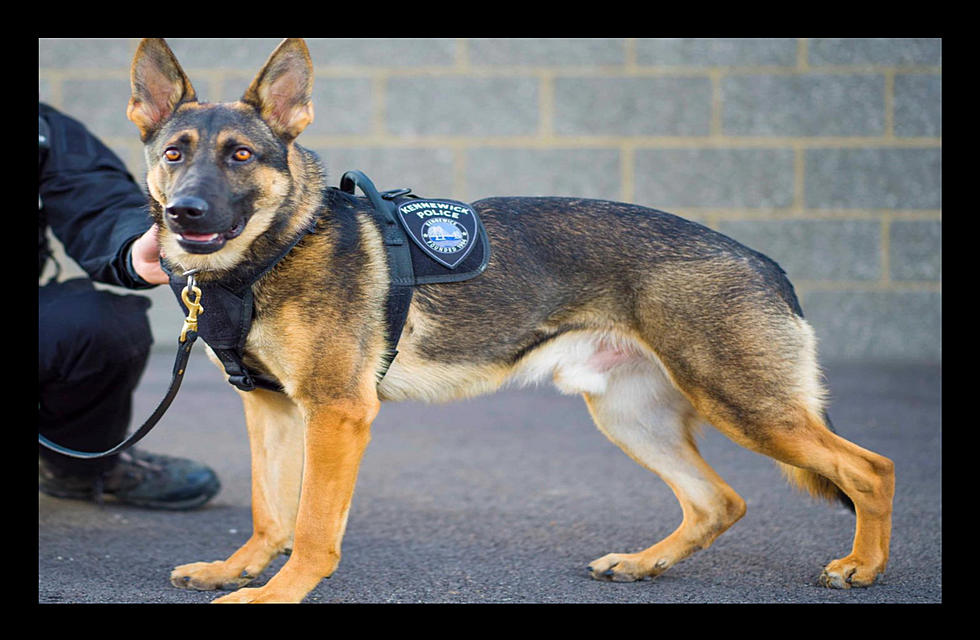 K9 Ivan Persuades "WANTED"-Homeowner's Unwanted Guest to Exit Mesa Home
Kennewick Police Department
K9 Ivan always gets the job done.
Deputies with the Franklin County Sheriff's Office were called out to a residence in Mesa on Monday morning by a homeowner requesting help to remove an unwanted guest. That guest was 30-year old Jose Monzon.
Turns out, Mr. Monzon was wanted by Police.
According to reports, Monzon was wanted on a DOC warrant for escape regarding an assault conviction.
Here's what happened.
When Police arrived at the residence, two adults and two children were safely removed from the home. After several minutes, a female exited and was arrested on warrants. Monzon, on the other hand, decided to stay inside the home. He would NOT exit the residence.
The unwanted "WANTED" guest barricaded himself in the home.
As K9 Ivan made his presence known by barking at the door, Monzon made a better decision by choosing to surrender.
Monzon was taken into custody without incident.
Officers from Connell, Richland, Kennewick, and the Benton County Sheriff's Department all were on the scene. No one was injured in the incident.
More about K9 Ivan:
K9 Ivan is a German Shepherd/Belgian Malinois mix from the Czech Republic. He works alongside Kennewick Officer Chris Whitney as a Patrol K9 team. Ivan's duties are to keep police officers safe and to locate suspects utilizing his searching and tracking abilities.
From the Kennewick Police Facebook:
Did you know that the overwhelming majority of K-9 deployments end without having to use any force? Law enforcement is often able to gain compliance and de-escalate the situation through the mere presence of K-9s. This is the ultimate win for the officers and the community!
25 Missing Children From Washington, Do You Recognize anyone?
It's every parent's nightmare. When children go missing from home, school, anywhere, fear sets in. Who took the child, teen, or adult? What happened? Please take a look at these missing children going back to 1971. One of these kids could be your neighbor, a fellow co-worker, or parishioner. Do you have any information about any of these children?
Tiny Luxury Farmhouse For Sale in Kennewick
Talk about affordable! This tiny 24' Farmhouse in Kennewick has two lofts with amazing amenities. 204 square feet with room for a king-size bed. This home has it all with heating, air conditioning, a fireplace, kitchen range with convection oven, hardwood floors, and more! No expense was spared. See this luxury tiny home today. You'll be amazed!
Tri-Cities' Cheapest Mobile Home Could Be More Glamorous Than My House
In an insane Tri-Cities housing market, it can be difficult to find something that works for you while fitting within your budget. If space isn't a necessity,
here's a home
that will change your mind about mobile homes. I'm not kidding when I say, "It's fancier than my house!" For $69K, you might rethink your home situation.
15 Ways You Can Help People in Ukraine Right Now
As Americans watch events unfold in Ukraine, many wonder how they can help. Below is a list of organizations responding to the crisis in Ukraine along with information on how you can support their various missions.