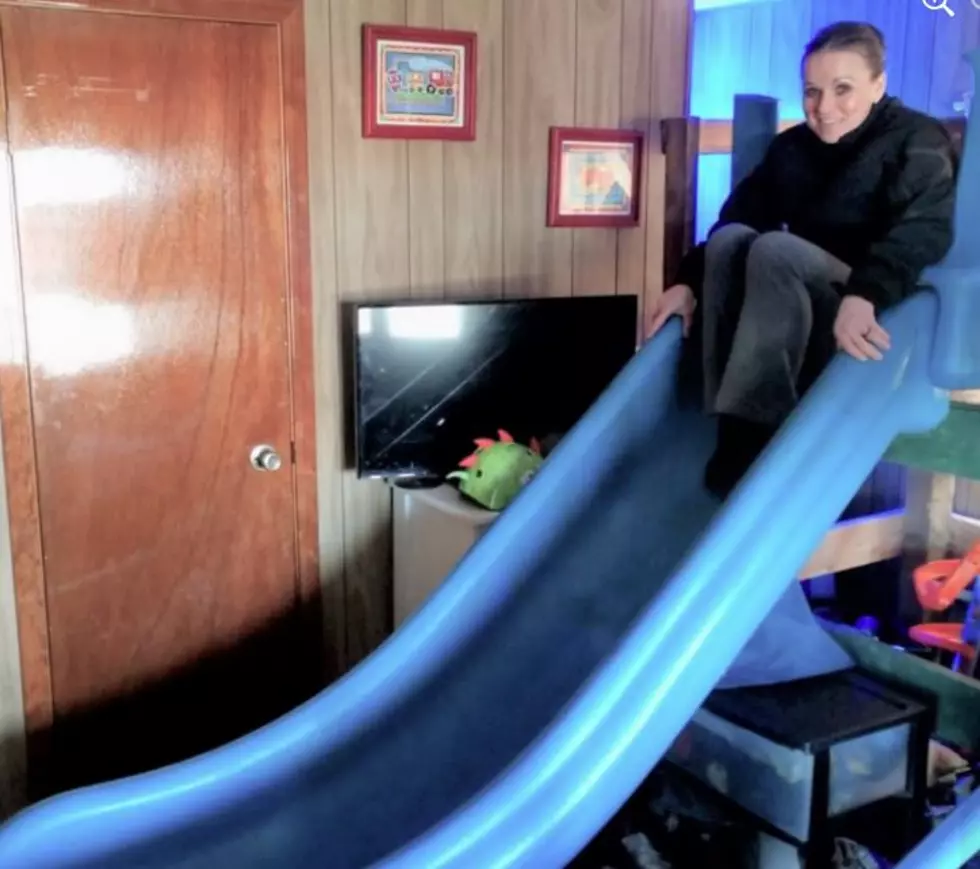 Pasco Park's Stolen Playground Slide Recovered In Burbank Home
credit: pasco police department
Alright, this is a crazy story out of an episode of "Cops". Pasco Police on their Facebook page always post the craziest stories of crime and this one is a doozy!
Pasco Police recovered a stolen playground slide in a mobile home??
Last year Pasco Police reported in mid-December that a playground slide from Tierra Vida had been stolen and detectives have been looking for the slide and it looks like they found it!
According to a posting on the Pasco Police Facebook page, the slide was recovered in a Burbank home being used in a kid's bedroom - what!?
It had been modified and painted but Detective Lee on a search warrant recognized the stolen slide instantly.
As is the hilarity that is the Pasco Police Facebook page, they tell the story and details best - here is what happened according to the police:
Do you remember back in mid-December when we reported the theft of playground equipment from the city park at Tierra Vida? Just like Pepperidge Farms, Detective Julie Lee remembered, too. On February 26, when she came face-to-face with a 400-pound playground slide inside a kid's bedroom in a mobile home in Burbank, she knew what she had.

How she got there is another story. It involved some of those annoying catalytic converter thefts, where thieves cut up your car's exhaust system just so that they can sell your cat converter to a scrap metal dealer for the value of the heavy metals inside it. The metals are valuable, but the cost to the victim is more, including the purchase of a new converter, the labor to weld the exhaust system back together, and the annoyance of driving around with straight pipes until it gets done.

Anyway, to make a long story as short as a cut-off exhaust pipe, our Crime Prevention guy put out some good info on some suspects in the thefts, sharp-eyed patrol officers found a matching truck with suspects, Detective Lee came over to help, and about five search warrants later, Detective Lee found herself inside the suspect's home in Burbank, looking for catalytic converters and finding a gigantic slide. Oh, yes, she also found catalytic converters.

Turns out, most of the original playground set got left behind back in December, but the slide was taken, the top sawed-off, it was repainted, and it was mounted on a bunkbed.

Pasco Parks and Rec arrived and recovered the slide.

Suspect Dustin Allen Bushnell, DOB 020591 of Burbank, was booked into Walla Walla County Jail on an investigative hold for Possession of Stolen Property (the slide) by WWSO deputies, based on Pasco PD's investigation. As of right now, nobody has been booked for stealing cat converters, but Pasco PD is still on the case and we will update you later.

Anyone with additional info is urged to call Dispatch at (509)628-0333 or email Detective Lee at leej@pasco-wa.gov about cases 20-35466 Theft (of slide) and 21-05296 Theft (of catalytic converters in Pasco).
All well that ends well but this has to be one of the crazier stories we've seen from the Pasco Police department. I always question what these criminals are thinking when they pull a stunt like this. I'm still surprised that Bushnell managed to steal a playground slide from a city park without being seen - crazy!
LOOK: See the iconic cars that debuted the year you were born
50 Famous Brands That No Longer Exist