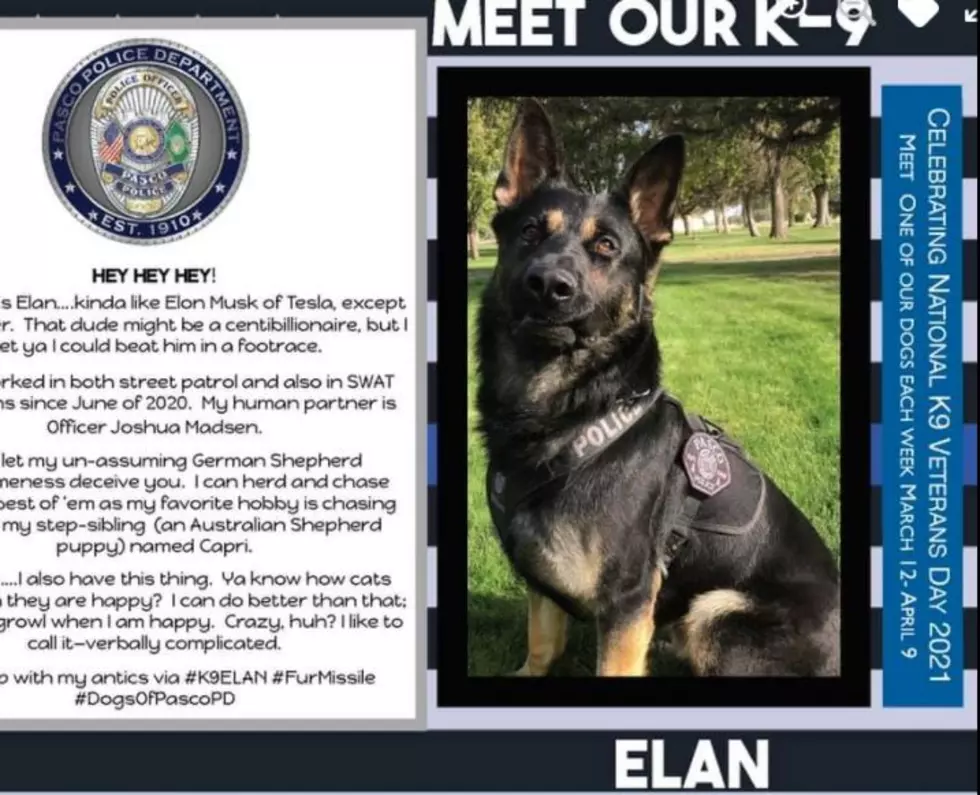 Pasco PD's K-9 Series Continues, Meet K-9 Elan
PPD
He's perhaps the most intimidating looking dog on the force, but his disposition is pretty friendly.
This is the latest in the series saluting the five K-9 dogs who are part of the Pasco Police Department.
Elan is a German Shepard who has been on the force for just over a year. He was one of the dogs who took over for the retiring K-9 Lemon, who had an 8 year career. He is originally from the Czech Republic, Europe, as are many K-9's who make their way to the U.S.
He joined the force formally last May, along with another new dog named Brit, after K-9 Lemon's sudden medical retirement, and the untimely death (from medical complications) of K-9 Hapo. Lemon also passed, sadly, due to medical issues.
Elan specializes in street patrol and SWAT Team operations, he's known for being a fierce and fast 'apprehender' of suspects. He 'says' his favorite hobby is chasing around his step-sibling, an Australian Shepard puppy named Capri. He's a muscular intimidating looking dog, which can't hurt in this line of work.
He works with Officer Joshua Madsen.  One of his more unusual character traits? He 'says' when cats are happy, they purr. When Elan is happy and doing well, he actually growls like a motorboat. Officer Madsen was also the handler for another dog in the force.
The Department fondly refers to their dogs as 'fur missiles.'
 Here's a few dogs that will not likely make it as a police K-9.
LOOK: The least obedient dog breeds