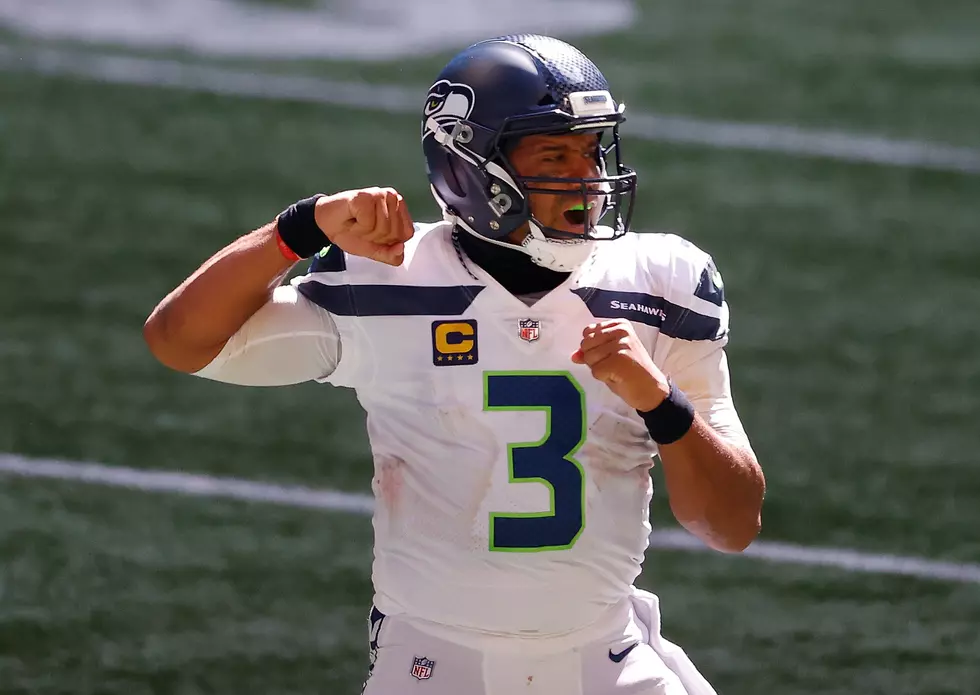 Seattle Plays NE Late Sunday, Heisman Trophy QB's Tangle Tonight
Getty Images
Fresh off being named the NFC Offensive Player of the Week in Week 1 of the 2020 NFL campaign, Russell Wilson and the Seattle Seahawks will host the New England Patriots, kickoff at 5:20 p.m. PDT, Sunday night on NBC.
What a performance by #3 in Atlanta. Russell Wilson began his 2020 potential MVP campaign by completing seven straight passes on the Seahawks' first offensive possession of the season, the last of them a touchdown pass to Chris Carson.
Wilson finished 31-35 with 4 TD's, two to Carson, one on a bullet just past the goal line that was right on Greg Olsen's shoulder pads exactly as he turned around to put his hands up. Can't defense that. And how about the rainbow tear drop into D.K. Metcalf's hands on a gutsy fourth and five call. Funny, Seattle brilliantly executed on its only 4th down attempt of the game, while the Falcons failed on all FOUR of their attempts.
Sunday night will be a rarity, as the New England Patriots, with Cam Newton under center, more shotgun actually, and no Tom Brady, will NOT be favored in a regular season NFL contest. The latest line has Seattle -4 against the Pats.
#letrusscook has been trending for a while in the PNW, and only growing stronger, as the genesis of the hashtag was a bunch of fans who wanted to urge Offensive Coordinator Brian Schottenheimer to allow Russell Wilson to do his thing, hard to define but you know it when you see it, his weaving his magic, all game long, not just in the second half when the offense is sputtering and the dedication to establish the run is just not working.
Too bad Baker and Burrow (Joe is from NE Ohio) play on pretty lousy teams. The Heisman winning QB's, toiling for Cleveland and Cincinnati respectively, meet for pro football Ohio bragging rights tonight in Cleveland as the Browns host the Bengals in an AFC North bottom feeder, it's Week 2 of the 2020 NFL season, and the 14th season premiere of Thursday Night Football.