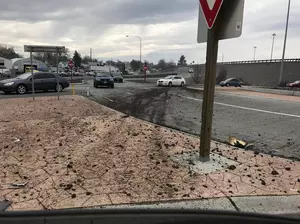 Serious Wreck Snarls Traffic at Blue Bridge-Columbia Drive Roundabout
395-Columbia Driver roundabout wreck (James Cluck)
Around 2:16pm Wednesday, we received word of a serious traffic situation just South of the Blue Bridge.
Specific details are still being gathered from the investigation, but it appears the white car pictured slid or was hit and slid across the roundabout. You can see the tire skid marks and rubber 'marbles' on the road.
Newstalk listener James Cluck just happened to be in the area, and he was able to snap some pictures after traffic came to a standstill.  He told us via Facebook is was a "miracle" nobody was killed. It appears more than one vehicle was involved. He was apparently about three cars behind the wreck, and described the flying rocks, dirt and debris as 'shrapnel.'
The investigation continues.  Drive carefully! It seems all too often we get reports or even see ourselves, accidents in that area.