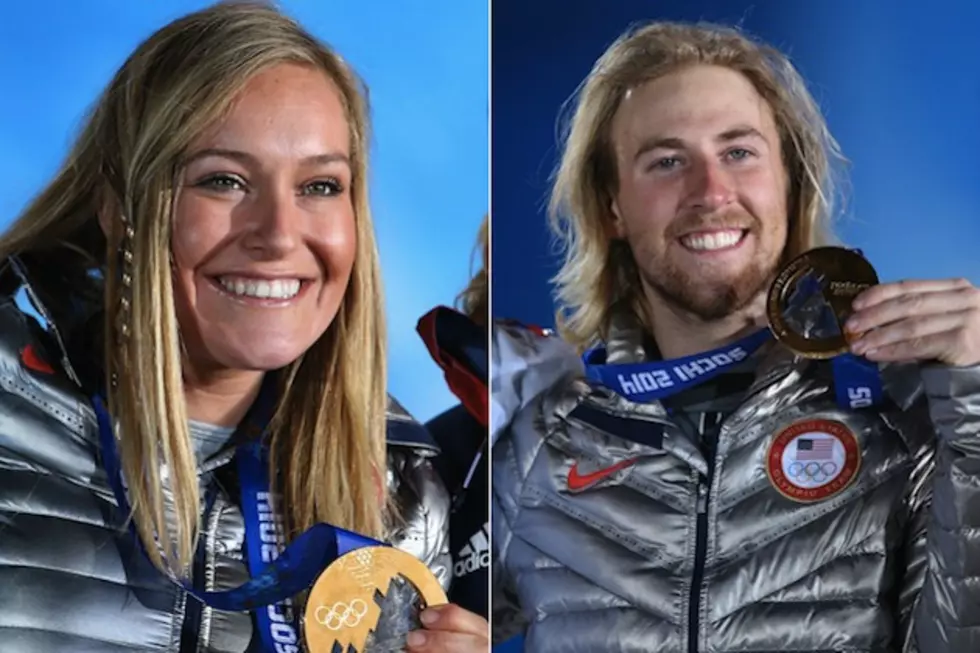 Sochi Olympics Recap – U.S. Sweeps Slopestyle Gold Medals
Getty Images
The United States dominated a new Olympic sport, and the host nation of Russia claimed its first gold of the Sochi Games during the first weekend of competition. Here's a recap of this weekend's action:
U.S. sweeps slopestyle golds
Americans Sage Kotsenburg and Jamie Anderson each won gold in their respective slopestyle snowboarding competitions this weekend. The 20-year-old Kotsenburg was not a favorite to win, but his score of 93.50 lifted him to the first gold medal of the games on Saturday. Anderson, 23, was a heavy favorite in the women's competition. She claimed the gold on Sunday with a score of 95.25.
New to the Olympics for 2014, slopestyle challenges competitors to perform tricks and aerials during a run on an obstacle-filled course. The event has been part of past Winter X Games in the U.S.
Russia wins gold
Russia claimed its first gold medal of the Sochi Games on Sunday night when figure skaters Evgeni Plushenko and Julia Lipnitskaia led the host nation to glory in team figure skating, a new event in this year's Olympics.
Showcasing technical and creative brilliance, the Russian team of Tatiana Volosozhar, Ekaterina Bobrova, Elena Ilinykh, Dmitri Soloviev, Nikita Katsalapov, Ksenia Stolbova, Maxim Trankov, Fedor Klimov, Plushenko and Lipnitskaia bested the second-place Canadians 75-65. The U.S. team led by world champions Meryl Davis and Charlie White won bronze with a score of 60.
Bad day for Bode
Former U.S. Olympic gold medalist Bode Miller finished a disappointing eighth in the men's downhill despite having the fastest times in two of three training run sessions. The 36-year-old American was attempting to be the oldest Alpine gold medalist in the history of the Winter Games.
Instead, Matthias Mayer of Austria bested the field with a time of 2 minutes, 6.23 seconds. Christof Innerhofer of Italy grabbed silver, and Kjetil Jansrud of Norway earned bronze.
Felix Loch and Anastasiya Kuzmina repeat gold feats
German luger Felix Loch, 24, won gold in the men's luge on Sunday, just as he did in Vancouver in 2010. Dominant in the sport for the past few years, Loch finished a convincing 0.476 seconds ahead of silver medalist Albert Demchenko of Russia. Armin Zoeggeler of Italy won the bronze for his sixth medal in six games.
Slovakian biathlete Anastasiya Kuzmina won her second consecutive gold in the 7.5-kilometer sprint on Sunday. The first woman in history to repeat gold in the biathlon, Kuzmina finished the course in 21 minutes, 6.8 seconds. Olga Vilukhina of Russia claimed the silver just 19.9 seconds behind, and Vita Semerenko of Ukraine earned the bronze.
Medal Count
Norway darted out to an early lead in the overall medal count with seven. Ole Einar Bjoerndalen won gold in the men's 10km biathlon sprint, and Marit Bjoergen earned victory in the women's 2 x 7.5km skiathlon. The U.S. was in a four-way tie for second with four total medals.
Norway (7)
2 gold; 1 silver; 4 bronze
Netherlands (4)
2 gold; 1 silver; 1 bronze
United States (4)
2 gold; 0 silver; 2 bronze
Canada (4)
1 gold; 2 silver; 1 bronze
Russia (4)
1 gold; 2 silver; 1 bronze