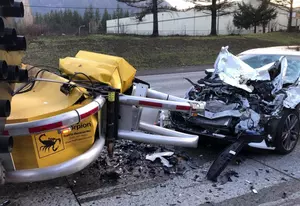 Accident Takes Out Crash Truck On I-90, Alcohol Involved [PHOTOS]
credit: WSP Trooper Rick Johnson/TWITTER
You see those crash trucks all the time at construction sites, the ones with the huge arrows that tell you to go right or left and they are pretty hard not to miss but it looks like one recently took the brunt of a speeding car.  
Trooper Rick Johnson took to his Twitter account to show the dangers of not paying attention and hitting one of those crash trucks. Here is what Trooper Johnson said about the accident:
This happened earlier this morning WB I-90 near MP 34. Thankfully no major injuries. The driver of the car under arrest for suspected impairment.The #CrashTruck did its job protecting the construction zone!
As you can tell by the accident photos, this driver is lucky to be alive.
Trooper Johnson also said the driver is under investigation for driving while impaired.
Gas prices are going up because of supply and demand. The last time I got gas, I saw the price at $2.99 a gallon. When I was a teen and buying gas for the first time, I think gas was $1.25 a gallon. You might not realize it, but prices are all relative. If you bought gas at 20 cents a gallon in the '40s, it's equal to being $3.30 per gallon in today's money. You think you were getting a good deal but you'd be shocked that gas was more expensive in other eras. Check out the gallery below on what the gas price was the year you started driving.
UP NEXT: See how much gasoline cost the year you started driving
See the Must-Drive Roads in Every State