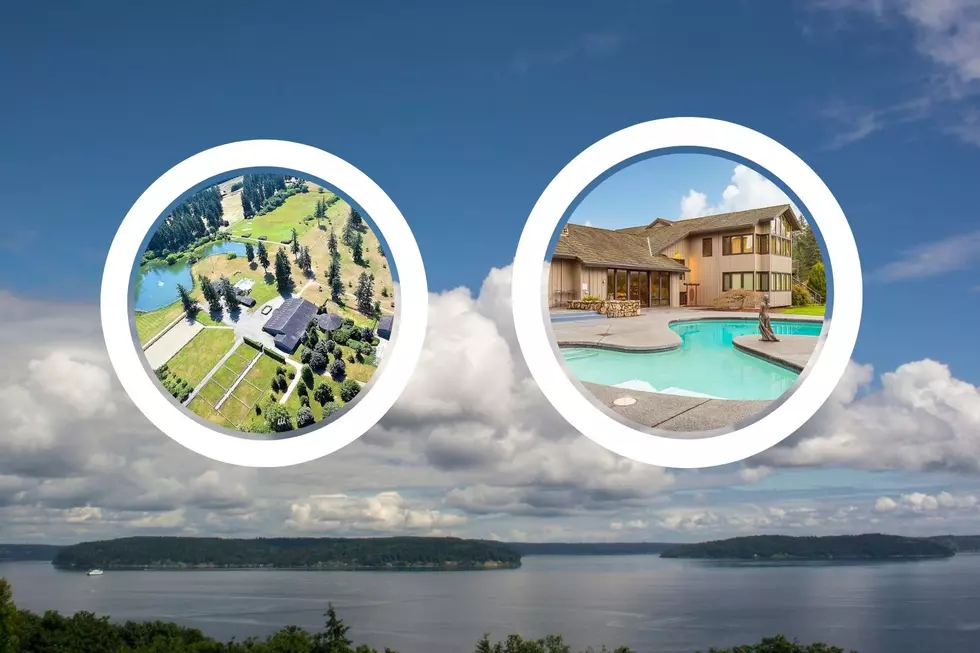 Amazing Puget Sound Island Estate Includes Private Lake
photo: zillow-Canva-Getty
Puget Sound is full of islands, Whidbey, Mercer, and San Juan come to mind. Another favorite island of many is Vashon Island. It's about 13 miles long and 5 miles wide and is sandwiched between Seattle and Tacoma, and for the most part, has remained relatively unchanged for many years. Its easily accessible from West Seattle and Point Defiance by ferry boat but the hassle of living life around a ferry schedule has kept people from residing there full-time. Many of the homeowners are "summer" residents only or run successful vacation rentals. In 2021, the Vashon population was around 10,000.
As you can imagine there are some incredible homes and views along the shorelines, but the center of the island has its own beauty with meadows and trees - the perfect spot for a private 117-acre estate, which I will highlight in a moment, but first here's a little history about Vashon.
How did Vashon Get Its Name?
As with most of the Pacific Northwest, Native Americans inhabited Vashon for hundreds of years. It was prime for hunting and fishing, so much so that there were wars between tribes over the territories. In 1792 explorer Capt. Vancouver discovered the island and named it after his friend Capt. James Vashon. By the mid-1800s most of the Native Americans were forced to leave the island due to treaties and heavy logging, which left much of the island bare.
Fast-forward to the present day and you'll find a diverse population with some living with the bare minimum in privacy and others living with all the luxuries of today - like the estate below which is up for sale.
Vashon Island is Home to One of Washington's Most Luxurious Estates
This amazing island estate sits on 5 parcels which in all total 117 acres. Between the main home and the 2 guest houses, the estate has 6500 square feet of living space with 5 bedrooms and 5 bathrooms. If you love to golf this property comes with its own driving range and putting greens - the perfect place to practice before a round at the island country club. If you like to fish the private lake is fully stocked or you could launch your boat at many of the public launches and catch everything from salmon to flounder to various species of cod. If wine is your thing, storing it won't be a problem in the one-of-a-kind art wine cellar. Horse lovers will enjoy the stalls, barn, and large pasture. If you collect cars you can store up to 25 of them in the showroom. And, if you like to swim it comes with a pool too! This heaven-on-an-island can be yours for $11.2 million and is listed by Brad Vancour of Realogics Sotheby's International Realty. Keep scrolling and see what this breathtaking island estate has to offer.
[PHOTOS] Massive Vashon Island Estate Has Its Own Driving Range
This amazing estate sits on 117 acres on Vashon Island, Washington. Between the main home and the 2 guest houses, the estate has 6500 square feet of living space with 5 bedrooms and 5 bathrooms, a private lake, a driving range with practice greens, a pool, a car collector showroom, and stalls for six horses. Keep scrolling and take a tour.
See Inside Historical Boat Stern Turned Home in Washington
After the second world war, the USS Manzanita was decommissioned and headed for the scrapyard but instead, the ship was sold and transformed into a home on Mercer Island, Washington. The stern of the USS Manzanita (now home) sits off the shores of Lake Washington and is estimated to be worth over $2 million dollars.