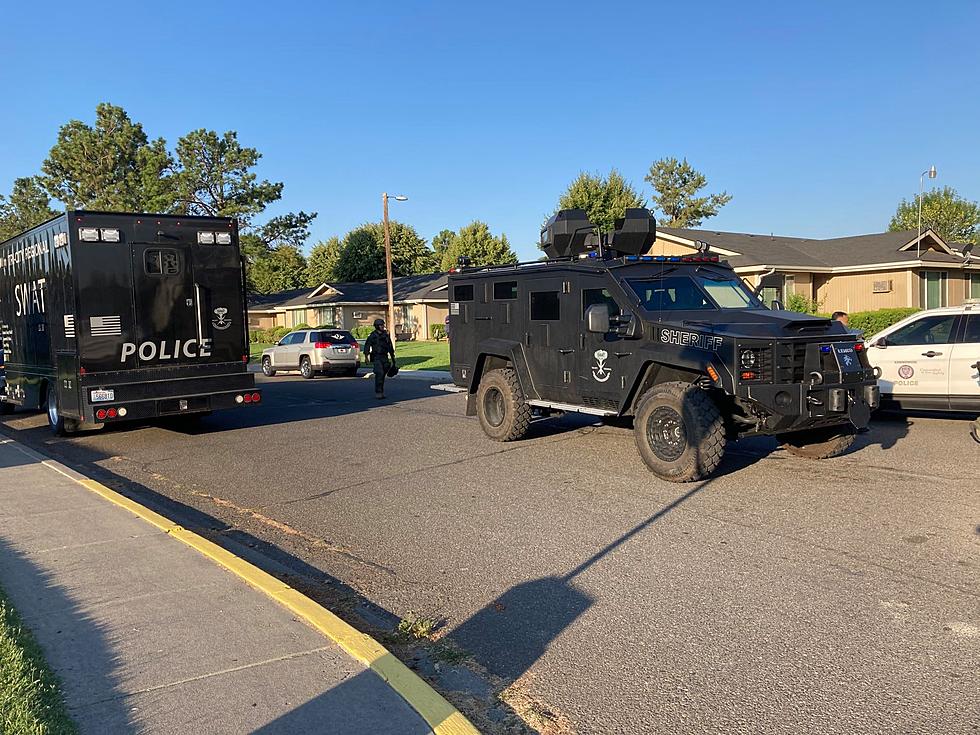 4 Suspects Arrested in Kennewick SWAT Standoff Monday
Credit: Kennewick Police Department
Four Kennewick suspects are in custody after an early-morning standoff with the Tri-City Regional SWAT team and Kennewick Police Department.
At about 3 am on Monday, law enforcement was called to the 1100 block of West 5th Avenue for a report of a possible domestic violence incident.
Upon arrival, Police witnessed a male and female outside an apartment. The two ran back into the apartment when they noticed the officers. Contact was attempted, however, no one answered the door.
Soon after, a male with noticeable facial injuries exited the apartment. The male victim alleged that a female was being held at knifepoint inside the apartment by four suspects.
At that point, SWAT was called. Shortly after, the female was released and three suspects came out of the apartment. One male suspect refused to exit.
After a search warrant was obtained, the last suspect was taken into custody by SWAT.
Through investigation, it was determined that three suspects unlawfully detained and threatened physical harm to the victims regarding a prior incident.
25-year old Sandy Trujillo, 20-year old Charles Islas, and 30-year old Guadalupe Sanchez were all booked into the Benton County Jail for Felony Harassment and Unlawful Imprisonment. In addition, Trujillo was booked on five warrants and Islas was booked for three warrants. 30-year old Anthony Davis, who was inside the apartment during the incident was jailed on two warrants.
Additional charges are pending as the investigation continues. Kennewick Police are asking anyone with information to call 509-628-0333.
Top 10-Tri-Cities Campgrounds
10 Best Campgrounds in the Tri-Cities
Step Into Touchet's Most Expensive Home
Touchet Washington's most expensive house is for sale and you'll live like a movie star on this property.
LOOK: Here is the richest town in each state
Just saying the names of these towns immediately conjures up images of grand mansions, luxury cars, and ritzy restaurants. Read on to see which town in your home state took the title of the richest location and which place had the highest median income in the country. Who knows—your hometown might even be on this list.