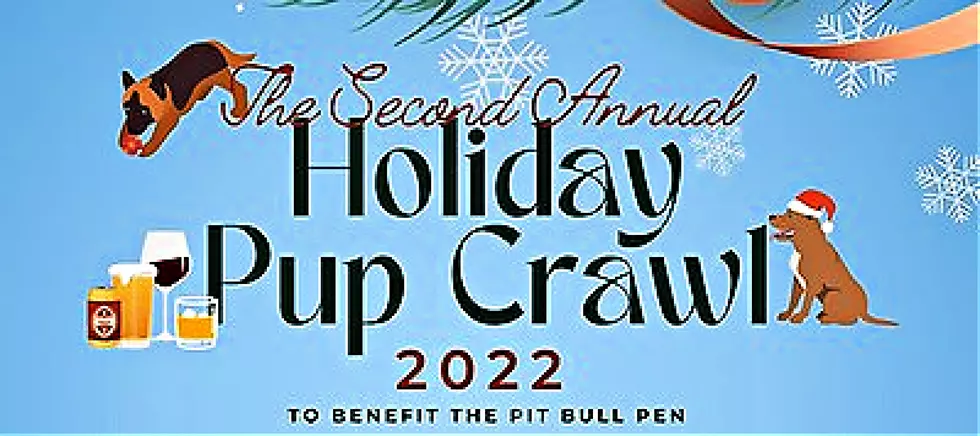 2nd Annual Pit Bull Pen Rescue Pup Crawl on Saturday in Richland
Pit Bull Pen Facebook
The 2nd Annual Holiday Pup Crawl is going on this Saturday, and it's for a great cause.
The Pit Bull Pen is a rescue in Benton City that helps to save  dogs at risk. The annual Holiday Pup Crawl takes place from 4 pm to 8:30 pm. Everyone is encouraged to cruise around Henderson Loop in Richland. Various locations will feature wine, spirits, and a silent auction.
There will be a photo booth and an Ugly Dog Sweater contest. The Pit Bull Pen will supply all the trivia, merchandise, and of course, puppies!
All the proceeds from this event will go to care at the rescue.
Medical care, food, spaying/neutering, microchipping, and more will all benefit thanks to your generosity.
The pup crawl features food provided by Fast & Curryous, a silent auction, time with Santa, and ornament decorating.
The Pit Bull Pen currently has 87 dogs in the program.
The Pit Bull Pen relies on your support to help provide for our animals.  The Pit Bull Pen is a volunteer group whose dream is to see every dog have a loving furever home.  The Pit Bull Pen brings animals into the rescue that need new homes, medical support, and sometimes training.  Through your donations, The Pit Bull Pen can help fulfill their dream of finding each dog a loving home.
You can read more about the Pit Bull Pen Pup Crawl 2022, from our KNDU news partners, HERE.
Check out these 50 fascinating facts about dogs:
RANKED: Here Are the 63 Smartest Dog Breeds
Does your loyal pup's breed make the list? Read on to see if you'll be bragging to the neighbors about your dog's intellectual prowess the next time you take your fur baby out for a walk. Don't worry: Even if your dog's breed doesn't land on the list, that doesn't mean he's not a good boy--some traits simply can't be measured.
LOOK: Here Are 30 Foods That Are Poisonous to Dogs
To prepare yourself for a potential incident, always keep your vet's phone number handy, along with an after-hours clinic you can call in an emergency. The ASPCA Animal Poison Control Center also has a hotline you can call at (888) 426-4435 for advice.
Even with all of these resources, however, the best cure for food poisoning is preventing it in the first place. To give you an idea of what human foods can be dangerous, Stacker has put together a slideshow of 30 common foods to avoid. Take a look to see if there are any that surprise you.