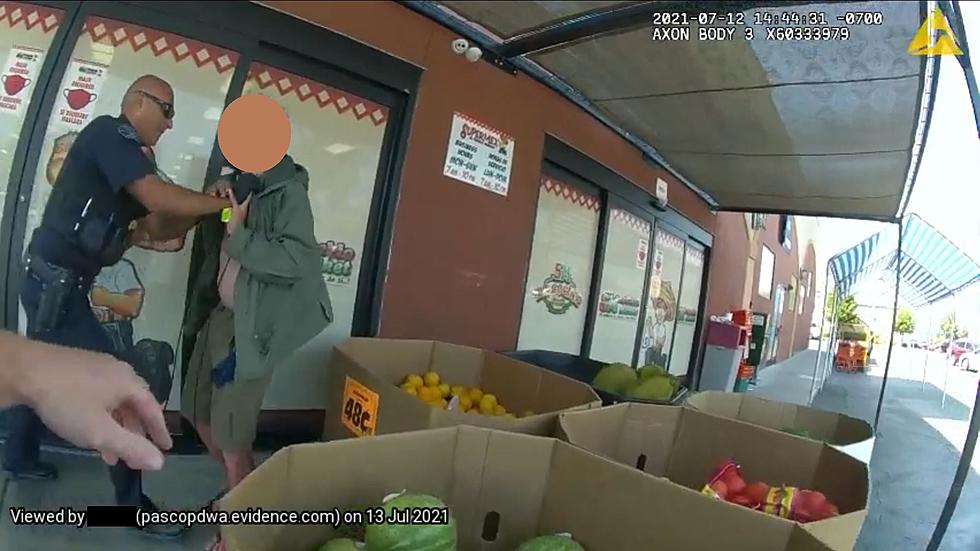 Pasco Police Take Down Man With Knife After Assault on Church Staff
Credit: Dave Allen
It was quite THE day Monday for unsuspecting Pasco church staff. At about 2:30 pm, Police received the report of a man who was trespassing on the church's lawn on 20th Avenue, threatening the workers.
The church staff members allege the man was on the lawn running the hose when they arrived. When the staff said they needed to turn off the water, the man allegedly threatened them with a broken vodka bottle and a chain with a padlock. The trespasser refused to leave, and the workers called 9-1-1.
A Pasco Police officer soon made contact with the trespasser south of the church. The man apparently didn't have time for small chat. Another officer radioed in that there was probable cause to arrest the man for trespassing and assault.
By this time, Police and the man had made their way to SuperMex Grocery on 20th Avenue.
The suspect then showed officers that he had an open lock-blade knife in his possession and told them he would "defend" himself if attacked.
According to the Pasco Police Facebook page:
The officers announced that he was under arrest and displayed a TASER-brand CEW. The male folded up his knife and was taken into custody. He remained uncooperative. He refused to ID himself. He slipped his cuffs around to the front. He did not want to assist with being put in or out of vehicles. He ended up in our WRAP fabric-and-strap restraint system so that he could be transported with reduced risk.
The suspect was booked at the Franklin County Jail for Trespassing, Assault, and Resisting Arrest.
The 40 Best Cover Songs by Rock Bands
LOOK: Protests have engulfed America since George Floyd's death
10 Washington Towns That People Often Mispronounce
Here are 10 towns in Washington that are most often mispronounced.