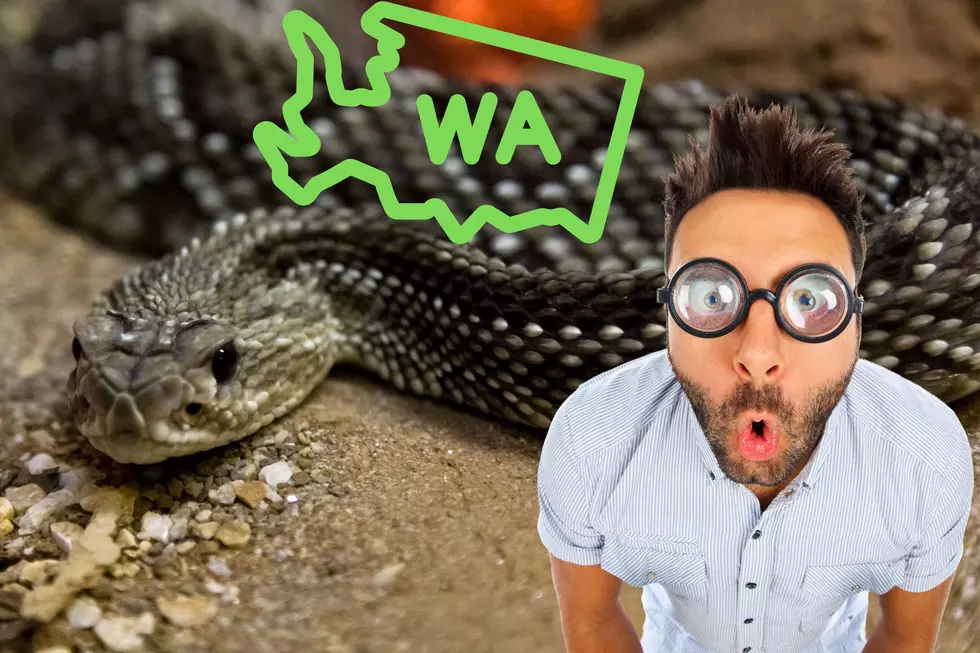 These 3 Types of Snakes Are Slithering Through Washington State
canva
What Types Of Snakes Live In Washington State?
Washington State may be known for its great coffee, rolling hills, and evergreen forests, but did you know that it is also home to a wide variety of snakes?

Can You Name The Most Common Snake Found In Washington State?
From Western Rattlesnakes to Gopher Snakes, Washington State has an abundance of interesting and unique scaly creatures.
Let's take a look at some of the different types of snakes that are found in the Evergreen State.
Western Terrestrial Garter Snake (Thamnophis elegans)
The Western Terrestrial Garter Snake can be found throughout most of the western United States, including Washington State. It is one of the most common snakes in the area and can often be seen sunning itself on rocks or logs near streams and ponds.
The Western Terrestrial Garter Snake has a small head and an elongated body with stripes running down its back. It has bright markings that range from yellow to orange to brown. It feeds mostly on amphibians, such as frogs and salamanders.
Pacific Northwest Gopher Snake (Pituophis catenifer):
Another commonly spotted snake in Washington State is the Pacific Northwest Gopher Snake. This species ranges from Northern California all the way up to British Columbia and can grow up to 8 feet long!
These snakes have thick bodies with dark blotches along their backs, which they use as camouflage as they slither through grassy meadows or rocky hillsides in search of prey.
They primarily feed on rodents but will also hunt birds, eggs, lizards, and even other snakes if food is scarce. They are non-venomous but will bite if threatened or provoked.
Western Rattlesnake (Crotalus oreganus):
The Western Rattlesnake is probably the most well-known snake in Washington State due to its distinctive rattle sound which it uses to warn off potential predators or threats.
It has a distinct pattern of dark brown bands along its back and a rattling tail which it shakes when threatened or alarmed.
These venomous creatures live in dry areas such as deserts, grasslands, brushy hillsides, and open woodlands but are rarely seen due to their shy nature. They feed mainly on small mammals such as mice but will also hunt lizards or frogs if necessary.
From gopher snakes to rattlesnakes, there's no shortage of reptilian life in Washington State.
While it's important to keep your distance from these creatures if you spot them while out exploring nature – especially with venomous species like rattlesnakes –
LOOK: Here are the pets banned in each state
Because the regulation of exotic animals is left to states, some organizations, including The Humane Society of the United States, advocate for federal, standardized legislation that would ban owning large cats, bears, primates, and large poisonous snakes as pets.
Read on to see which pets are banned in your home state, as well as across the nation.
WATCH OUT: These are the deadliest animals in the world