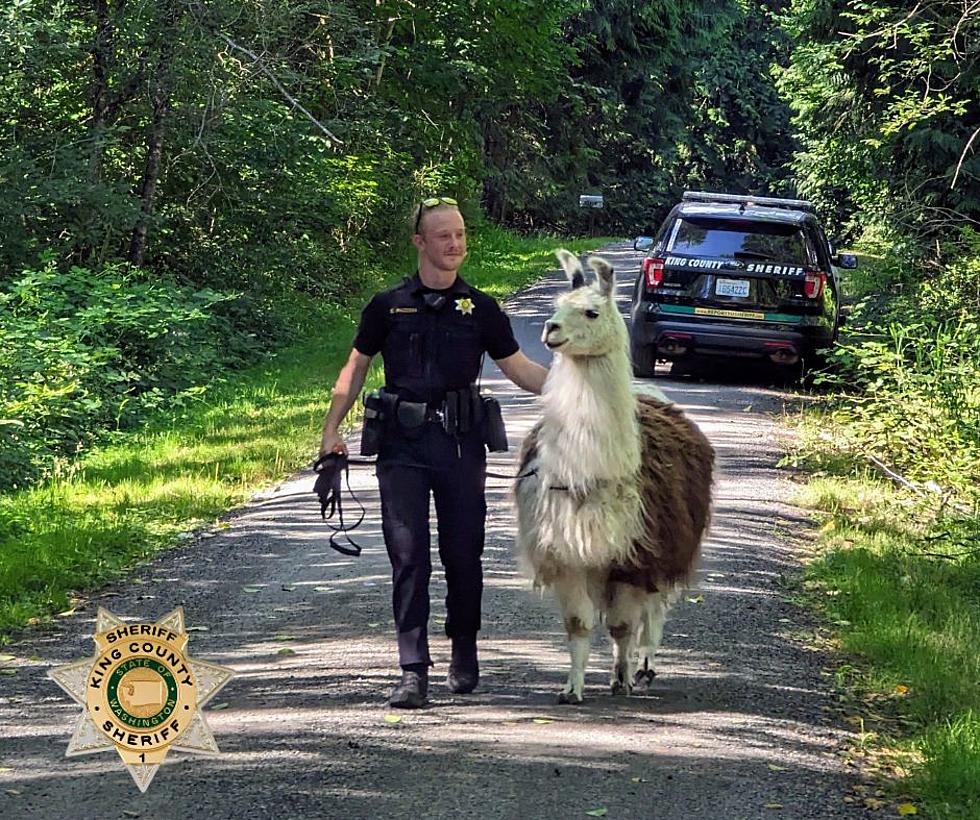 Wacky Fun Washington State Llama Police Chase Has Adorable Ending
credit: king county sheriff's department
A Llama Runaway Chase Ends In An Adorable Ending For King County Sheriff's Deputy
Cute and adorable Llama's are always fun to visit but what happens when a stubborn llama escapes and hits the road in search of fame and fortune?
Take A Look At A Hilarious Llama Chase With Yakety Sax Music
it might've started out as an ordinary day for King County Deputy Paczosa until he caught the most unusual call of his career.
The incident was posted on the King County Sheriff's Facebook page and here's what went down:
On July 15th, our King County Sheriff's Office Communications Center received a call from a delivery driver stating that he was unable to deliver a package due to a llama standing in the middle of the road and blocking traffic.
King County Deputy Paczosa responded to the location and sure enough, found said llama in the roadway and refusing to move. Using his de-escalation skills and standing just a tad over spitting distance, Deputy Paczosa was able to sweet talk him into putting on a leash to get him off the roadway.
Soon after, the communications center received another call, this time from someone reporting their llama missing. We were happy to reunite the owner back to their furry friend, and the driver was able to deliver the package, most likely ordered through Llama-zon.
It's a happy ending for this lucky llama but I thought I'd share another hilarious video of llama's being chased and finally captured thanks to some awesome onlookers who rallied together.
We'd like to take a moment to salute all of you llama wranglers and thank you for your service King County Deputy Paczosa.
Tri-City Water Follies: Hydroplane Racing on the Columbia River!
Get set for the Hydros to hit the water! July in Tri-Cities is always reserved for Boat Races on the Columbia River! The Columbia Cup has H1 Unlimited Hydroplane boats racing for the title. Will you be there to witness all the fun?
5 Annoying Washington State Weed Types That'll Destroy Your Yard
Are you a homeowner in the state of Washington? Take a look at this guide to discover which types of weeds can wreak havoc on your yard and how to school them.