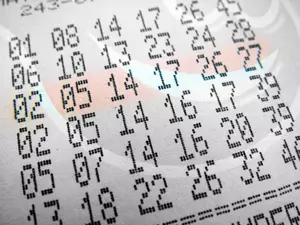 We Have A Winner! $2.7 Million Lotto Ticket Sold In Sunnyside!
Sean Gladwell
A lotto ticket almost got tossed in the trash but it turned out to be a $2.7 Million lottery ticket and now a lucky Sunnyside man is collecting his winnings.
According to the Sunnyside Sun, a Sunnyside man is now a millionaire thanks to a ticket he purchased at Safeway. He bought the ticket at the Safeway on 6th street.
The winner bought the ticket from the vending machine and almost tossed the ticket until he realized he'd won.
On the vending machine, it allows you to reinvest your winnings from a previous winning ticket but the man noticed something different about the machine so he decided to re-scan the ticket and discovered that he'd won millions.
The machine told him to contact the lottery office because anything above $600 has to be paid out through the lottery office but imagine holding a $2.7 million dollar ticket?
The man is a construction worker in the Yakima Valley and says his retirement will be a whole lot easier.
You can read more details on the winning here.
Congrats to the lottery winner and if you are looking for a way to get your own stash of cash, you can take a look at our gallery below for our tips on how you can start saving money today. We've also added a great gallery of the richest person from each state. I'm pretty sure Bill Gates will be our Washington pick but what about Oregon and Idaho? You can find out below:
LOOK: Here are 25 ways you could start saving money today
These money-saving tips—from finding discounts to simple changes to your daily habits—can come in handy whether you have a specific savings goal, want to stash away cash for retirement, or just want to pinch pennies. It's never too late to be more financially savvy. Read on to learn more about how you can start saving now. [
From:
25 ways you could be saving money today
]
KEEP READING: See the richest person in every state