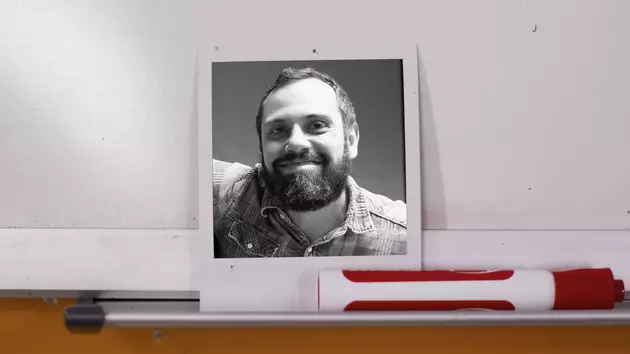 21 Questions with Director Rick Castaneda of Granger, WA
Writer and Director of All Sorts
Creator and native of Granger, WA Rick Castaneda is about to drop his long-awaited second feature film called, All Sorts. Fun fact, a portion of the movie was filmed in the downstairs offices of the radio station I currently work in! Small world with big ideas so while we wait for the big reveal I figured we'd play a round of 21 Questions with Rick
1) What did little Rick want to grow up to be?
A writer
2) If you could travel back in time or to the future which would you choose and why?
To the future maybe 100 years but I want to make sure I get to come back
3) If you had to choose between crocs or flip-flops which one would you sport?
Flip-flops..thought the Thong Song was about flops...big surprise it was not
4) What was your favorite game as a child?
Monopoly, you could win it all or you could go down in flames
5) What's the best piece of advice you've been given and who gave it to you?
Mom gave me this piece of advice and she doesn't even remember it. I would miss my brother and sister SO much when they went away to college that I would cry and my Mom told me, "it's ok, you know you don't have to miss them." A weight was lifted off my shoulders
6) If I handed you $10,000 what would you do with it?
It would for sure go into the All Sorts film
7) What music are you currently listening to?
Loads of Paul Simon
8) Dogs or cats?
Currently, cat because I just don't have as much time
9) If you acquired a superpower what would it be?
Flying
10) Did you pick up a pandemic hobby?
Not really, a new baby!
11) What was the last dream you had?
A lot of dreams involving his high school friends. The movie soundtrack from All Sorts has been playing in my head
12) Who is more romantic you or your partner?
My wife has got a burning passion, reading her poems you get really emotional
13) Best present you have ever received?
A Baby!
14) Best present you have ever given
I gave my Mom a homemade gift box that featured photos that she seems to really love
15) Favorite part of being a director
Every single part of it. Writing, finding the actors, the editing, and the best is having an idea and seeing it come to fruition. Especially All Sorts the big moment with the cigars and fog, money and yelling. All of these people get to be totally silly while we film and this wouldn't have happened if I wasn't here.
16) Favorite line by a writer?
From The Sundance Kid, "Who are those guys?" Growing up Dad was always saying it randomly
17) What's a story you can't wait to tell?
Another story in the Yakima Valley and thinking about a bank robbery. Grangers bank just seems to get robbed like every Thursday. The Yakima Valley seems to have really random stories like the time the guy got caught because of his footprints in the snow or the guy who got stuck in the chimney and had to call out for help when they opened for work.
18) Are your films based on true stories?
Someone once said, "we're going to take this deck of cards and shuffle it but all based on truth"
19) What's your favorite thing to eat?
Cold cereal, all sorts
20) If someone visited your hometown of Granger, what should they make sure to do? Definitely the dinosaurs and take a walk on the south side of Granger Hill, super peaceful with eagles and nature. I feel for the lady who got stuck on the dino, "there's going to be a point where I have my own metaphorical dinosaur I will have to climb"
21) What's something you want people to know about you? I don't want you to know anything about me but this movie is about a love of movies. I love telling stories, they help us frame our reality. If you can be optimistic if you can start telling that story.
Like and follow All Sorts on Social Media and also his new company Electric Penguin and stay up to date and help spread the word all across the planet! Everyone needs these good vibes and creativity.
All Sorts
UP NEXT: See how much gasoline cost the year you started driving
READ ON: See the States Where People Live the Longest
Read on to learn the average life expectancy in each state.