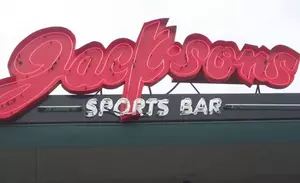 Iconic Bar in Yakima Shuts It down for Good
TSM
I first discovered the bar when I first worked in Yakima back in 1998. It was one of the top hang out places for adults 21 and over for many years in Yakima and it looks like it's doors are now closed for good.
A giant sign says "Thank You Yakima For The Memories, We'll Miss You" is in sight of an empty parking lot.
The phone lines are dead and The Jackson's Facebook hasn't had a new posting in weeks. A posting from a former DJ that worked there confirms that the doors are closed.
The cool thing about Jacksons is that it wasn't your average bar. Monday Night Football was attended regularly by families and the restaurant food was delicious.
It had some great comedy nights with rising comedy stars like Brad Upton and Kermit Apio, all Northwest mainstays.
I moved to the Tri-Cities in 2007 and noticed that there was a Jacksons right along GW Way with the same logo but I don't believe it was the same owners and if it was, they sold out years before then.
Speculation is that COVID-19 did the bar and grill in. I guess you never know what the future holds but if someone was smart, they'd swoop in and by the place and keep it alive.