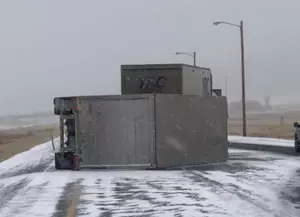 Icy Roads Causes Several Accidents Near Pendleton [PHOTOS]
credit: oregon dot
Several accidents left motorists stranded on I-84 at several locations due to icy roads near La Grande yesterday.
if you were out on the Oregon highways yesterday, you might've got stranded for several hours near La Grande and Ontario. Several accidents caused several delays and closures along I-84.
I-84 had been closed in both directions as icy roads made for treacherous going for semi-trucks yesterday as several accidents caused hour-long delays on the icy roads.
The first area affected was I-84 eastbound near Pendleton at Exit 216 and westbound in Baker City at Exit 304 due to truck crashes.
The westbound blockage prevented ODOT winter maintenance crews from returning after treating snow and ice on the eastbound freeway so both freeways had to be closed.
Westbound truck traffic was also restricted from traveling west from Ontario due to limited truck parking in Baker City.
We've got a high wind warning through the Columbia Basin today with a chance of rain showers but if you are headed to the higher elevations, always check the road reports before you go.
I'd recommend packing blankets and some extra food just in case you get stuck in a traffic slowdown through the region over the next few days.
Oregon DOT says winter weather and icy conditions can be expected throughout eastern Oregon. Check TripCheck.com or call 511 / 800-977-6368 for update conditions. Outside Oregon call 503-588-2941.
Enter your number to get our free mobile app
The 100 Best Places to Live on the West Coast