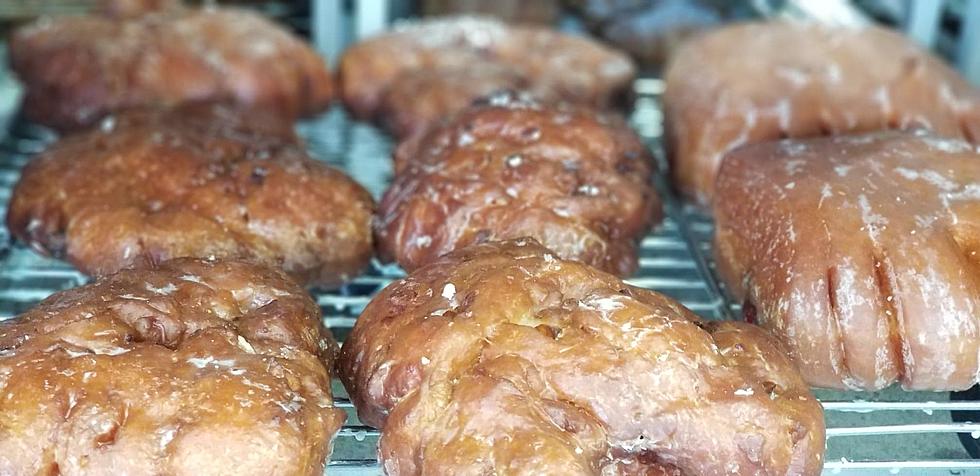 Local Hidden Gems to Shop This Holiday Season
Townsquare Media/Sarah J
Shopping is like therapy and even though it's Cyber Monday, might you be hitting up some of your favorite local shops to show support?
Sometimes we forget to get outside of our own bubbles when it comes to our favorite local spots, this weekend a listener whose been out of town for ages wanted to know some local spots to support so I figured I would share some of my favorite places, you share yours and hopefully, we all find something new this year to enjoy!
1) Viera's Bakery & Deli is an incredible spot located on 5th and Lincoln, currently, they are on a macaroon kick that hopefully won't stop because Wow! Just wow! They serve up donuts as big as your head, fresh bread, cakes, muffins, and more with lunch specials, plus a daily offering of cheese zombies, tomato soup, and fresh-made churros. Don't want to make your cake filling? They might have the flavor you need already in a piping bag and delicious gallons of milk to grab as well for your convenience.
2) Boehm's Candy has been transformed into Yakima Beads, Rocks, and Candy Emporium - this treat is making it happen during covid, adjusting their store to include another patron, if you love fudge, honeycomb and more this is a great place to get your splurge on.
3) St. John's Cheesecakes - This is a hidden gem that you can grab over at Howard's Medical Supply in Yakima or by the box inside Wray's IGA on Summitivew (Wray's also carries an incredible selection of Keto friendly treats, no carbs, and no sugar but all the flavor located in the bakery area) Year-round these babies come in all kinds of flavors on top of the coveted traditional New York style and are super rich and creamy. Perfect as a gift for friends and family and you're supporting St. John's Christian School
4) Essencia Artisan Bakery - if you are searching for delicate, rich, and unique this bakery has got it all. I LOVE their assortment of fresh-baked bread, perfect for appetizers like tomatoes, mozzarella and basil bites drizzled with some locally made balsamic vinegar. This place has some very fancy treats inside, some I can't pronounce and most I can't spell so you'll have to go in and try it out for yourself
5) Can't leave without mentioning Johnson's Orchards. If you are searching for fresh-baked pies and treats, what better than a spot that grows the apples then creates treats with them, and look at how they are handling their prep!
Favorite Spots to Eat Breakfast or Lunch
Vida Health Bar - Even if you are not a vegan this locally run spot is heaven! I for one sing the praises of their acai bowl with the granola, fresh fruit, and bee pollen every bite is perfection and I dare you to try and save half for later. The hippie sandwich is also a personal favorite of mine. There's something about their walnut chorizo mixed with the vegan ranch that makes my taste buds go crazy and if you are searching for a decadent slice of pie, beautiful!
Toro Taco inside the Selah Chevron is a hidden gem inside a gas station. You would NEVER know that they feature nationally recognized taco and fry boxes, not to mention burrito boxes and meals for one as well. Seriously delicious and they also serve dinner
Meraki Creations - constantly updating and creating new dishes this place serves up decadent frenchy toast and their charcuterie board is to die for! Even the pickiest eater in your crew will find something they like.
The Lab - Current obsession is the fried cauliflower, I mean who knew you could make something taste so incredible? The menu is always being updated and you now have access to their second spot Il Grasso as well so this is truly a local double rainbow in the culinary world for sure
Waterfire Restaurant and Bar - I have never had such fancy drinks that really give you the best buzz around! The last time there they were burning rosemary from my drink at the table, it was a whole experience that you truly don't want to miss. The wedge is a perfect starter and if you want to bring on the meats and seafood, the rotation of fresh options is always on point and also open for dinner
Yakima Steak Company - When I was restricting loads of food while losing weight I still was able to order from here and the options were perfect. The meats are so yummy, the seafood cooked to perfection, there are tons of appetizers to choose from and the drinks are bomb as well plus this lighting in this place is loads of fun
Zesta Cucina - Speaking of lighting, this place has always been a great spot for appetizers and happy hour. Small plates and great drinks plus the pasta options are really delicious
Xochimilco - There are now a few locations around town with one specializing in drinks and all featuring incredibly authentic dishes. My favorite is the Camarones a la creme and my husband LOVES the fajita trio, feeds two for sure and the guacamole is made fresh
El - Mirador 2 - My Mom loves a good deal and you really can't beat a margarita for $1.99! It's not even a tiny glass. Along with that, you can get as many baskets of in-house-made chips and salsa as you want while you munch on either your choice of a burrito or enchilada for $1.99 as well during their happy hour. Splurge on fresh guacamole because it makes the whole meal even better
Kyoto Sushi and Steakhouse - This place has an incredible menu that fits all types and is just nailing it
Best Places to Shop for Books
Inklings - I love their rewards program and it's like stepping into a different world every time I visit. My husband is now hooked as well. They feature local artists on top of world-renowned authors and have a lot of knowledge. If you are a book reader or know of someone who loves journals and all things literary, this place is perfect!
Encore Books - This little gem is the perfect spot to sell your used books and gain credits to go shopping in their store. You never know what adventures you'll go on until you try something new.
Favorite Local Clothing Shops
Love Couture Boutique - Located in Selah, this shop has it all from locally made candles to all the cutest gloves and beanies your heart could desire. You can follow them on Facebook or Instagram and the shop owner is fantastic with letting everyone know what's currently available.
Wilday - This store is making dreams come true and if you are into unique one of a kind styling, well you've just found it! From dresses to pants and sweatshirts there is something for the fashionista in your life
Yakima's Ship Shop - I know, it doesn't seem like it's true but next time you are heading to mail a package, go to Yakima's Ship Shop and spread the love. There are local shirts, sweatshirts, coffee mugs, wine, and more to splurge on.
Persimmon Boutique - This store located on Summitview not only contains a ton of hidden gems it also helps support the YWCA in Yakima!
There are even local places to grab your groceries
Wrays MarketFresh IGA - Located on 3rd and Nob Hill and another on Summitview
Ray's Retail Meat - bring on the meats
Los Juanes Distributors - they've got the carne asada and fajita meats already marinated for you
There are so many more places out there and I would LOVE for you to share your favorites, I'll even update the list as we go
LOOK: 50 photos of American life in 2020