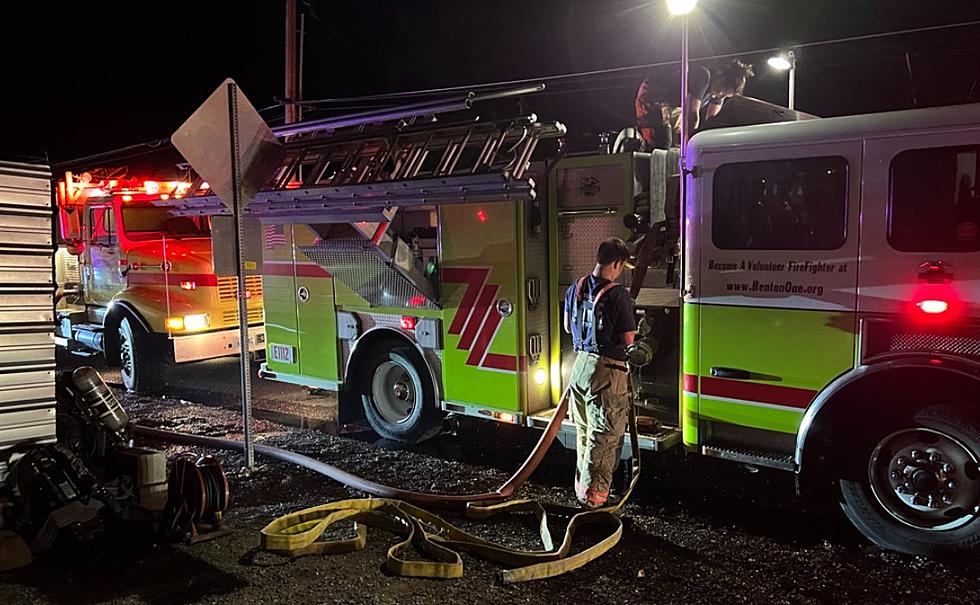 Mobile Home Fire in Finley Claims One Due to Faulty Fan
Benton County Fire District 1
One person is dead after a fire in Finley on Saturday night.
Fire crews with Benton County Fire District #1 and the Kennewick Fire Department responded at the house fire on East Bryson Brown Road at about 10:20 pm. Crews had to use bolt cutters on a gate to gain access to the property.
An unresponsive female was found inside the burning residence.
First responders began saving procedures on the woman while fire fighters started to douse the flames. Medics worked to save the woman for more than 30 minutes. The woman was pronounced deceased at the scene.
A faulty fan is believed to be the cause of the fire.
Fire investigators believe it was a faulty fan in the kitchen of the mobile home where the fire began. The home had no working smoke detectors and is likely a total loss. The Benton County Sheriff's Office will continue to investigate.
8 Businesses Perfect to Replace Kennewick's Former 7-Eleven
Are these businesses appropriate for the former 7-Eleven on Clearwater Avenue that was once proclaimed the Slurpee King of the World? You'll have to leave us your thoughts.
Tri-Cities, Washington Restaurants Serving Delicious Breakfast
You know what they say, breakfast is the most important meal of the day. Whether it's eggs, oatmeal, or cereal, it's always best when you can start your day with a balanced meal. Maybe a fluffy omelet, or pancakes, breakfast is most enjoyed with others. But where can you go to get a great breakfast in Tri-Cities, Washington? Let us show you!
Tiny Luxury Farmhouse For Sale in Kennewick
Talk about affordable! This tiny 24' Farmhouse in Kennewick has two lofts with amazing amenities. 204 square feet with room for a king-size bed. This home has it all with heating, air conditioning, a fireplace, kitchen range with convection oven, hardwood floors, and more! No expense was spared. See this luxury tiny home today. You'll be amazed!