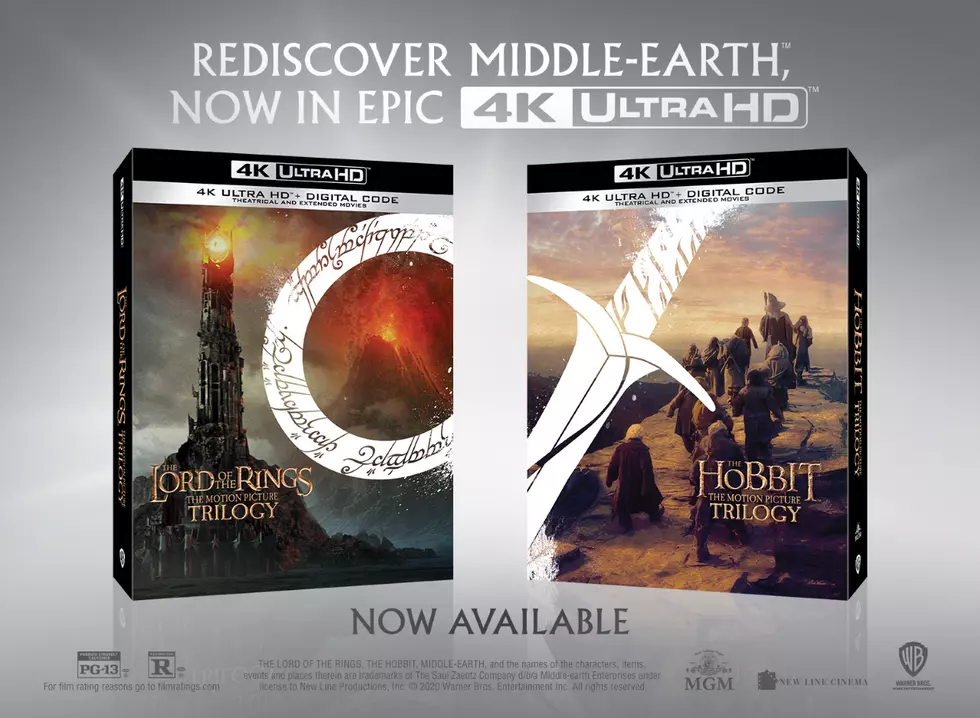 Movie Madness with Sarah J
Listen in with Sarah J for your chance to win this digital downloadable set
Movie watching is perfect during December. You've probably eaten a little too much lately and feeling particularly cuddly so why not turn on your favorite device and instantly watching a movie, that maybe you've seen but not in 4K Ultra HD or introducing to the family.
Currently, Sarah J has the following selections to choose from when you hear the movie madness cue to call in the 4 pm hour weekdays in December.
This is one of my favorite movies, Wesley Snipes is on point and a total bad***, Stephen Dorff isn't too shabby either.
A HALF VAMPIRE, HALF MORTAL MAN BECOMES A PROTECTOR OF THE HUMAN RACE, WHILE SLAYING EVIL VAMPIRES IN THE ACTION CLASSIC "BLADE."  OWN IT ON 4K ULTRA HD AND DIGITAL TODAY!
This isn't one movie, no you will be receiving the Middle-Earth series and in 4K Ultra HD. My Dad read these books to me while I was growing up so I have a soft spot for the stories. So fun to dive into a make-believe world and go on all the wild adventures.
RETURN TO THE STUNNING LOCATIONS AND EPIC ADVENTURES IN PETER JACKSON'S MIDDLE-EARTH™ SAGA, "THE HOBBIT™" AND "THE LORD OF THE RINGS™" NOW BEAUTIFULLY REMASTERED IN 4K ULTRA HD UNDER THE SUPERVISION OF DIRECTOR PETER JACKSON. OWN THEM TODAY ON 4K ULTRA HD AND DIGITAL TODAY!
SPARTANS!  PREPARE FOR GLORY!  RELIVE THE GREATEST UNDERDOG STORY BASED ON FRANK MILLER'S GRAPHIC NOVEL WITH ZACK SNYDER'S "300"! OWN IT NOW ON 4K ULTRA HD™!
SAY HIS NAME THREE TIMES AND LET THE HYSTERICAL HORROR BEGIN! TIM BURTON'S BELOVED CLASSIC "BEETLEJUICE", STARRING MICHAEL KEATON AS THE GHOST WITH THE MOST! OWN "BEETLEJUICE" ON 4K ULTRA HD™ BLU-RAY™ AND DIGITAL NOW!
AFTER A TEN-YEAR TRUCE BETWEEN CATS AND DOGS, A TECH-SAVVY, FOUR-LEGGED VILLAIN PLOTS THE NEXT PET WORLD WAR. IT'S UP TO A HEROIC TEAM OF CATS AND DOGS TO RESTORE HARMONY AND SAVE THE DAY! CATS & DOGS 3: PAWS UNITE! AVAILABLE NOW ON DIGITAL AND ON BLU-RAY™
NOW AVAILABLE FOR THE FIRST TIME IN STUNNING 4K ULTRA HD™, GUY RICHIE'S WITTY, ACTION-PACKED "SHERLOCK HOLMES" AND "SHERLOCK HOLMES: GAME OF SHADOWS" OWN BOTH ON 4K ULTRA HD™ BLU-RAY™ AND DIGITAL!

 
CHECK IT OUT: The Best Movie Character Names of the 1980s