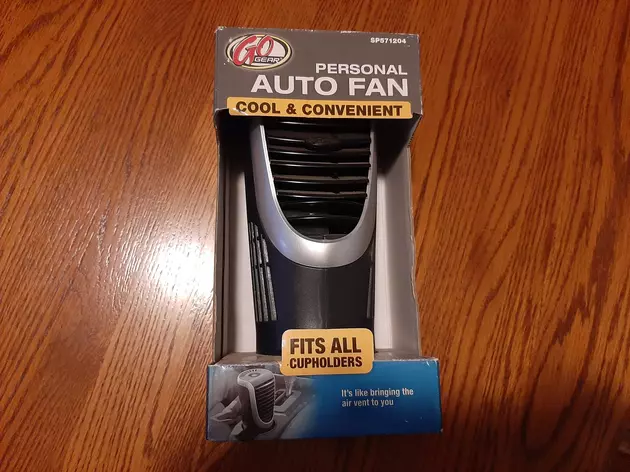 Next Level Invention Beats the Heat Instantly! Win it Tomorrow!
Steve Woods/TSM
**Warming**
I meant **Warning**
Major Sarcasm Ahead.
At the company Christmas party a couple years ago, I won the most incredible invention known to the overly sweaty. (True, I really did win this...but now it can be YOURS!)
Yes, I'm talking about the ingenious PERSONAL AUTO FAN, shown above.
Are you tired of driving a vehicle that has no fan built right into the dash?
Are you tired of having to roll down your windows just to get a breeze? What a pain!
Well, your worries are about to end with the PERSONAL AUTO FAN! This amazing device plugs right into your cigarette lighter (known as a 'device power source' in some newer vehicles). And here's the bonus: It sits right in your cup holder (cup holders not available in cars pre-1985).
We are currently on day 4 of HEAT STROKE 2021 in the Tri-Cities, and it's only getting hotter from here. This amazing FREE TO YOU device will blow insanely hot air from your sun-beaten car directly onto you and all from your cup holder! That's right, you'll get air, just as hot as the interior of your vehicle, blown directly onto your crotch or mid-body area, depending on your particular cup holder location. What relief!
You in? Damn right you are. Just SEND US A PHOTO of your vehicle's dashboard that is lacking vents, a/c, AND A VIDEO of windows that can't roll down or are permanently up. A random drawing of all qualifying entries will take place tomorrow, Tuesday, 6/29/2021.
Stay cool and thanks for reading this bullsh!t. But the Personal Auto Fan is real and my wife keeps asking me to throw it away, but how could I let go of something so ridiculous? Hope you win it LOL.
797 Summit Street, Richland
KEEP LOOKING: See What 50 of America's Most 'Pupular' Dog Breeds Look Like as Puppies