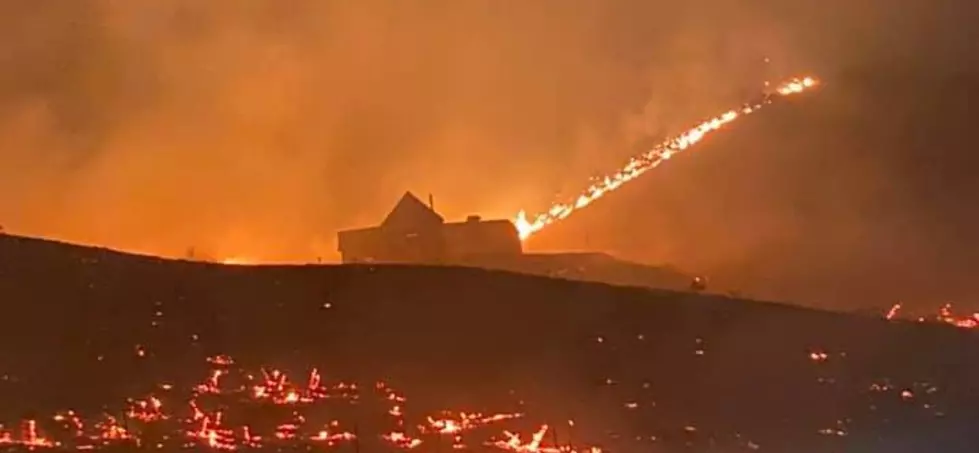 Preparing Your Home For Wildfires
Photo courtesy of Yakima County Fire District 5
With all the wildfires burning on the west coast, Portland is the latest in declaring an emergency.  There are 30 wildfires burning across Oregon and have ruined almost a million acres.  In California, more than three million acres have burned.
In Washington, Governor Jay Inslee will ask for federal aid for Malden.  He visited the town on Thursday to survey the damage.  More than 80% of the town was destroyed.
Do you know how to prepare your home for a wildfire?  I did some online searching and there are several helpful sites, including Weather Underground.
Prepare Your Home For A Wildfire

It is recommended that you create a 30 to 100-foot safety zone around your home. Within this area, you can take steps to reduce potential exposure to flames and radiant heat. Homes built in pine forests should have a minimum safety zone of 100 feet. If your home sits on a steep slope, standard protective measures may not suffice. Contact your local fire department or forestry office for additional information.

Rake leaves, dead limbs and twigs, and clear out all flammable vegetation
Remove leaves and rubbish from under structures
Thin a 15-foot space between tree crowns, and remove limbs within 15 feet of the ground
Remove dead branches that extend over the roof
Prune tree branches and shrubs within 15 feet of a stovepipe or chimney outlet
Ask the power company to clear branches from power lines
Remove vines from the walls of the home
Mow grass regularly
Clear a 10-foot area around propane tanks and the barbecue
Place a screen over the barbecue grill—use nonflammable material with mesh no coarser than one quarter inch
Regularly dispose of newspapers and rubbish at an approved site and follow local burning regulations
Place stove, fireplace and grill ashes in a metal bucket, soak in water for 2 days; then bury the cold ashes in mineral soil
Store gasoline, oily rags and other flammable materials in approved safety cans, and place the cans in a safe location away from the base of buildings
Stack firewood at least 100 feet away and uphill from your home, and clear combustible material within 20 feet
Use only wood-burning devices evaluated by a nationally recognized laboratory, such as Underwriters Laboratories (UL)
Review your homeowner's insurance policy and also prepare/update a list of your home's contents
For current conditions on WA communities affected by wildfire smoke, click the button below.
Enter your number to get our free mobile app
KEEP READING: Here are the best places to retire in America