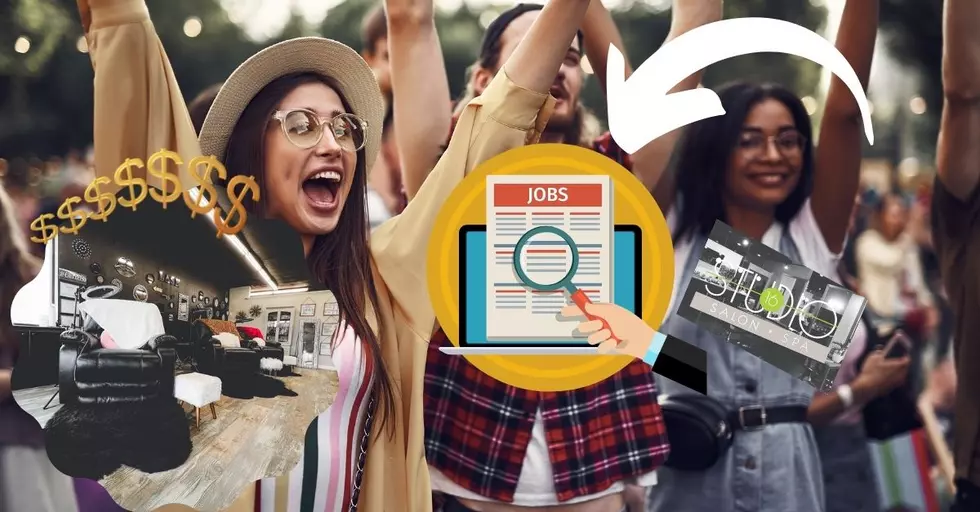 Right Now There Are 55 Yakima Valley Positions Ready to Hire You!
canva
There are tons of positions available but sometimes it can get overwhelming to know where to start. Hopefully, something on this list sparks a fire and gets you on the road to a new career!
Loads of luck and if you know of more positions, please don't hesitate to reach out and positions will be mentioned on-air throughout the week
Viera's Bakery in Yakima is wanting to a hire a full-time baker from 7 am - 3 pm and also Part-Time Clean-Up from 3:30 pm - 7:30 pm
Panera Bread is currently searching for full-time, part-time, and hourly cashiers as well as a catering lead
Brookdale Yakima Senior Living is hiring a full-time server
The Little Johnson's Bake Shop is wanting to hire a food prep person and ideally will be able to cover a Tuesday-Saturday shift from 5 am - 1pm
BluePipes is hiring a Traveling Physical Therapist and it says you'll make $1,740 a week
Yakima Valley Memorial Hospital is hiring a full-time Director of Imaging Services, an Ultra Tech Technologist, a Community Health Worker, a Certified Occupational Therapist, a Director of Revenue Cycles, Inventory Control Coordinator, Phlebotomist, Clinic Manager, Physician, Nurse Manager, Employee and Labor Relations Specialist, Manager Imaging Services, Wound Care Physician, Radiology Technologist, Certified Nursing Assistant, Non-Invasive Cardiology Physician, Referral Coordinator, CRNA, Family Medicine Physicians Assistant, LPN,
ICES of Washington is hiring a Student Exchange Coordinator for Yakima and the Surrounding Area, this is supplemental income. Not meant as a full-time job
Valor Studio in Selah is looking for an esthetician to join the team, reach out to owner Iris Herrera
Studio 16 in Yakima is searching for licensed hairstylists
A La Mode Spa and Salon in Yakima is in need of a massage therapist
The Gorge is hiring for the Summer 2022 Season and is setting up interviews right now for Bartend, Beertend, or cook in Wenatchee, Ellensburg, and Moses Lake. Contact 616-848-0788 and speak to Raquel to set up a zoom interview
Achieve Fitness in Yakima is hiring for a part-time Lead Salesman, Certified Personal Trainer, Certified Personal Trainer, Zumba Instructor, and Front Desk
Kindercare Education is hiring Teachers
Chandler Surveying is hiring for a Survey Technician. Email a resume to chandlersurveying@gmail.com
Bleyhl's Sunnyside is hiring a Full-time retail specialist
Every School District Everywhere for so many different positions
Washington State Careers - searching for a Certified Seed Field Inspector-Agricultural Commodity Inspector 2
Don't forget to check the City of (fill in the blank) to see what's available
Who is Hiring?
READ MORE: See 50 remote jobs that can pay well
50 Most Popular Chain Restaurants in America
YouGov investigated the most popular dining brands in the country, and Stacker compiled the list to give readers context on the findings. Read on to look through America's vast and divergent variety of restaurants—maybe you'll even find a favorite or two.
What Are the Signature Drinks From Every State?