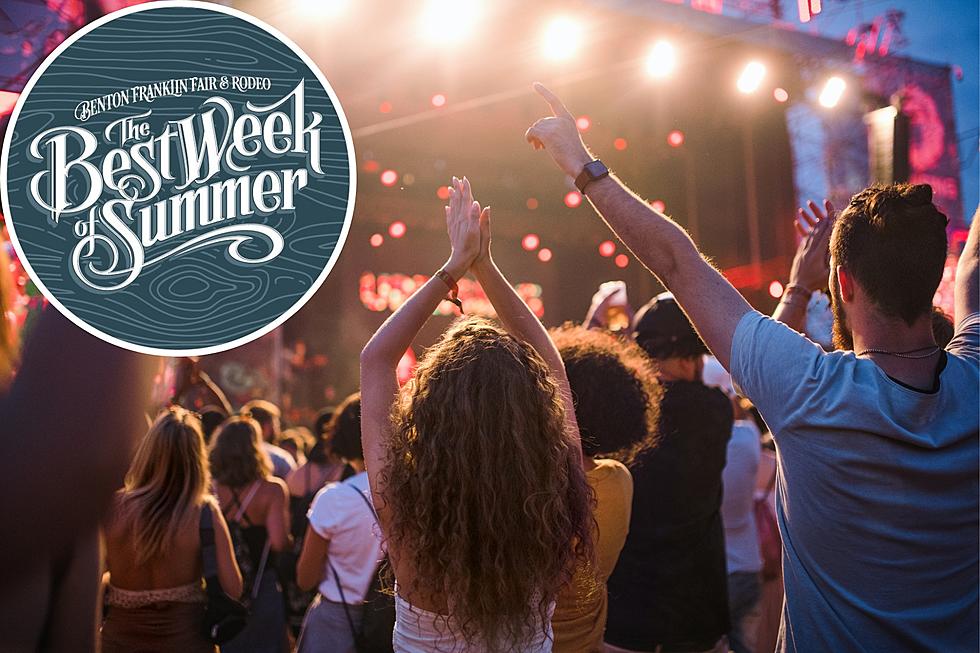 Benton Franklin Fair and Rodeo Wrist Bands On Sale Saturday
Benton Franklin Fair & Rodeo-Canva
It's known as The Best Week of Summer, and we're talking about the fair!
The Benton Franklin Fair and Rodeo wrist bands go on sale THIS Saturday at Ranch & Home in Kennewick. (845 N. Columbia Center Blvd.) The annual one day sale runs from from 8 am to 8 pm.
How much do the wrist bands cost?
The wrist bands are $30 during the sale at Ranch & Home, which is $10 off the Fair price. Customers will be given a voucher to exchange for a wrist band at the Fair. The wrist band is good for one day of carnival rides at the Fair.
The Fair runs from August 22nd through August 26th in Kennewick.
Who's performing at this year's Fair?
The entertainment line up has shows for everyone, including T.I. on  August 22nd.
Universally recognized as a visionary and groundbreaking entrepreneur—one who led the explosion of southern hip hop music and, specifically, trap, to a mainstream breakthrough—Tip "T.I." Harris continues to share exciting new projects capturing the magnetic rapper, actor, art curator, entrepreneur, philanthropist and activist at the top of his game.
The rock band Bush performs on Wednesday, August 23rd, Country superstar Justin Moore plays on Thursday, August 24th, and Banda Machos on Saturday, August 26th.
You can purchase Fair tickets in advance, parking passes, and tickets to concerts and events here.
Most Iconic Artists/Bands to Play The Gorge Ampitheatre
So many artists have had the privilege to play the Gorge Amphitheater in George, WA. From solo artists to bands and many festivals, including the
Sasquatch Festival
which takes place every year during the Memorial Day weekend. Has your favorite musician played the Gorge yet?
7 Ways to Beat the Tri-Cities Heat
5 Sure ways to keep cool in the HOT Tri-Cities Summer.
Tri-Cities, Washington Restaurants Serving Delicious Breakfast
You know what they say, breakfast is the most important meal of the day. Whether it's eggs, oatmeal, or cereal, it's always best when you can start your day with a balanced meal. Maybe a fluffy omelet, or pancakes, breakfast is most enjoyed with others. But where can you go to get a great breakfast in Tri-Cities, Washington? Let us show you!